Your home is a reflection of you. From the wall color to the furniture, everything you choose says something about who you are. Nothing expresses our individuality more than the art we put on our walls. From bright, bold statements to photos of family, our artwork is direct reflection of who we are and what we value. Therefore, it is important to carefully consider what we display.
Alphabet Pix provides personalized name art that is both unique and stunning. Choose a name, a word that holds a special meaning, or an acronym and  Alphabet Pix will create a piece of art that will beautifully preserve what is most important to you. Pulling from a collection of architectural, nature, and clever photos, Alphabet Pix can construct a gorgeous piece full of character and meaning.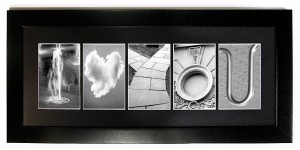 Personalized name art goes beyond wall art. It become an heirloom to be passed through generations. And with its classic, black and white photography, Alphabet Pix name art will always be in style in any home.  Enchant the eye and touch the heart of your friends and family with personalized name art and watch as this piece of treasured wall decor becomes even more meaningful as time goes on. High-quality frames and archival prints make sure that your customized artwork will last for years to come.
Alphabet Pix allows you to carefully choose the art that goes on your walls. By creating beatiful, one-of-a-kind pieces that hold meaning, the walls in your beloved home will speak volumes about you and your loved ones.