Looking to carry gourmet coffee in your shop, or maybe market your own brand? Look no further than AromaRidge! This family owned business offers a large variety of delicious gourmet coffees as well as rum cakes and other delicious gourmet foods.
Gourmet Coffees
Coffee is one of those rare items requiring no effort to sell. The aroma from the beans goes wafting through your aisles, calling to your customer and entreating them to locate the source of that amazing smell. All you'll have to do is stand at the register and ring up the purchase! And there's no substitute for good, gourmet coffee.
That's why the people at AromaRidge take such care when roasting the beans. In fact, they don't even roast them until you've placed your order. This ensures that your customers will receive the freshest, most flavorful coffee available!
All of their beans are hand-selected from the premium stock of coffee-producing countries around the world. They are roasted to perfection in small batches by the company's very own roast master. Those small batches ensure a more even, cleaner roast. With a wide variety of choices including peaberry coffee, decaf and even Jamaican Blue Mountain, you are guaranteed to find exactly what your customers will enjoy.
Other Gourmet Options
Although worth its weight in gold, delicious gourmet coffee isn't the only buying option with this online retailer. They also carry gourmet teas, rum cakes, gift packs and gift boxes.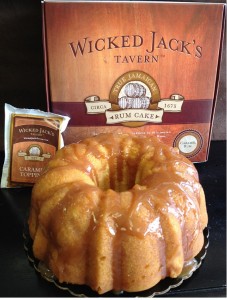 Mighty Leaf Tea features handcrafted blends in a wondrous variety of flavors! Available in Earl Grey, African-Nectar, Chamomile Citrus, Organic Breakfast and White Orchard, this line of teas is made from quality organic ingredients, ensuring your customers will adore every cup.
Wicked Jack's Rum Cakes are baked from scratch using "Ol' Gran's home-style recipe." Each cake is soaked in the finest Jamaican rum and then vacuum packed to ensure delicious flavor and freshness. The scrumptious flavors include: Butter Rum, Butter Rum Raisin, Caramel Rum, Chocolate Rum and Red Velvet. Those amazing flavors are guaranteed to have your customers running back for more!
AromaRidge is your one stop option for gourmet coffee and other gourmet foods. You can rest easy knowing that you've put the best tasting and highest quality products on your shelves. Contact them today!