It takes a lot of hard work and care to make a truly beautiful piece of handcrafted pottery. Kneading the raw clay, throwing it on a wheel, shaping it into a unique design, combining just the right dyes to make a radiant color, and setting the kiln to exactly the right temperature; all of these elements make each piece of pottery one-of-a-kind!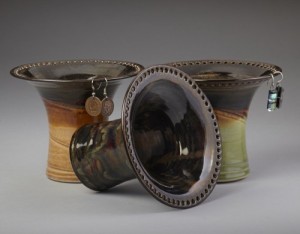 Customers want to find pieces that are different than the pottery that their neighbors and friends might own. That's where Barb Lund-Potter comes in. Her gorgeous designs stand out from the crowd and appeal to customers from all kinds of decor preferences!
Love At First Sight
Barb has been making pottery since 1984, when, on a whim, she decided to take a few pottery classes at the Indiana University campus in Bloomington, Indiana. It was smooth sailing from there, as Barb fell head-over-heels in love with the wonderful art of pottery.
She now owns her own studio in Bloomington, located inside of her quaint blue and yellow house. From here, Barb makes all sorts of eye-catching pottery, including mugs, bowls, pitchers and casserole dishes, but is most noted for her innovative take on a fashion must-have: the earring holder.
A New Look On An Old Idea
When customers think of earring holders, they think of simple jewelry boxes with compartments to hold their accessories. But Barb's earring holders are meant to be displayed in homes with pride!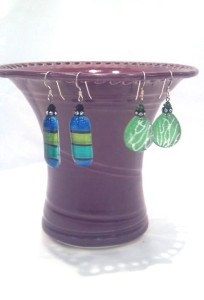 Each of Barb's holders is crafted with love, and there are a variety of color and pattern options available. From dark red, swirl patterns, to mellow yellow and bright orange split patterns, Barb Lund does it all! And customers will appreciate the awesome variety found in her catalog.
So if you're looking for the perfect pottery piece to accent your home decor, Barb Lund-Potter has exactly what you need!