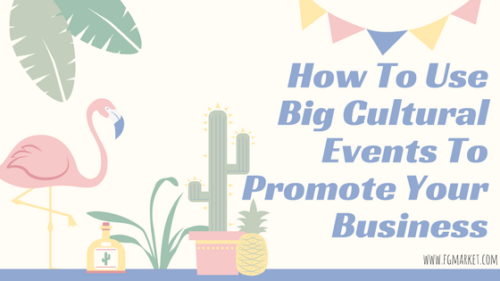 How closely do you follow world news and big cultural events? Are you paying attention to the Super Bowl each year or that new TV show that absolutely everyone is watching?
These are huge marketing opportunities for your business and can increase your brand awareness exponentially if you use these events in smart ways.
Since the rise of social media in the 21st century, brands have found ways to take huge cultural events, create hashtags out of them, and market their business to people across the world all at once.
Even without using social media, there are great ways to market yourself to the world and spread the good news about your awesome brand.
Let's take a look at a few ways some of the biggest brands out there are taking events, and spinning them to their advantage.
Oreo – Super Bowl power outage
During Super Bowl XLVII in February 2013, the Baltimore Ravens played the San Francisco 49ers for bragging rights to the best team in the NFL that season. The Ravens won with a final score of 34 – 31, but the winner of the game wasn't the biggest talking point of the Super Bowl that year. It was the power outage that lasted for 34 long, awkward minutes.
But, like every other major event that happens in the world, social savvy brands took this opportunity to market their products on Twitter, Facebook, and more.
One of the best examples of a brand taking advantage of the blackout was Oreo, who used this clever tweet to remind people to, what else, eat some delicious Oreos.
Power out? No problem. pic.twitter.com/dnQ7pOgC

— Oreo Cookie (@Oreo) February 4, 2013
Hundreds of other brands jumped in as well, because with the game no longer happening, what else were people going to do besides scroll through their social feeds for some entertainment?
LEGO – #TheDress
Ugh, remember The Dress? You know, the viral picture of the dual-colored, striped dress that, for a few interesting days in 2015, people almost lost their minds over?
Some people saw the dress as blue and black, while others saw white and gold. It all came down to science and the way the cones in our eyes work to receive and process light that enters through them, but most people were only interested in yelling at their friends, family, and coworkers over what colors they saw, and how unbelievable it was that not everyone saw the dress as the same colors (it was blue and black, by the way, and don't ever try to convince me otherwise).
Tons of brands took advantage of this strange but funny phenomenon, and took to Twitter with the hashtag #TheDress and either #BlueAndBlack or #WhiteAndGold to voice their opinions on this one simple dress.
LEGO, the toy company that manufacturers colored building bricks for kids and adults alike, had the most clever take on the #TheDress debate. They cleverly weaved the viral picture with their own products to create a tweet that captured lots of attention online and bring brand awareness to their company.
#whiteandgold or #blackandblue? We found a way around science- you can have both! #TheDress #dressgate pic.twitter.com/5oj3ZTqOWk

— LEGO (@LEGO_Group) February 27, 2015
American Paper Optics LLC – Solar Eclipse
Have you heard about the upcoming total solar eclipse that's going to be visible for many U.S. residents? If not, there's still time to prepare!
The big event happens on Aug. 21, 2017, and can be seen by most people across North America, but in certain lucky areas of the country, it will be even more visible.
American Paper Optics, LLC of Tennessee have been preparing for this event for a long time. Why, you ask, would a Tennessee company be so concerned with an event that takes place in space, miles, and miles away from their store? Well, it just so happens that American Paper Optics, LLC makes some of the only pairs of commercially-available eclipse glasses on the market.
Their Eclipse Glasses are an inexpensive, and safe, way to view the upcoming total solar eclipse, an event that takes place once in a lifetime for many people.
American Paper Optics has been featured in national media outlets promoting their Eclipse Glasses, and are taking full advantage of this amazing, rare event to promote their products!
Don't be afraid to take big cultural events, and spin them into a marketing advantage for your business and your brand!