Facebook can be a great marketing tool; it's not just for sharing cute pics of your dog and arguing about politics anymore.
But like any marketing tool, if you aren't including good information and updating it to fit the needs of your customers, then it's useless to you.
It can be easy to forget to manage your  Facebook page with everything else going on during the day. However, it will only take a little bit of time and effort to make these important changes to your Facebook page strategy.
Here are a few simple tips you can use to boost your Facebook page, which will lead to a better overall experience for your customers, and help to boost your online reputation.
Update Your Info
Do you keep the info on your Facebook profile always up-to-date and accurate? When's the last time you checked it to make sure it still accurately tells customers what your business is about?
A lot of us will either write a quick bio when we first setup the Facebook Page and never look at it again, or skip the bio altogether!
Both of these options, however, are not good for your Facebook Page. Your About tab of your profile is where all the most relevant info to your customers is housed. Everything from contact info to your company's Story, to your Mission statement and the products you offer, are located in the About section of your profile.
Go back over this information regularly to ensure that customers are getting the best information about your business. Having good info reduces customer questions about simple things, and it also increases the trustworthiness of your company.
Make It Look Good
What have you done to make your profile look pleasing to visitors?
One easy way to spruce up your page is to make sure you have a good profile picture and a cover photo. Many people assume that the profile pic needs to be a picture of their products, or maybe even themselves. But if you're a business with a professional Facebook Page, you need to make your profile picture your business's logo.
Similarly, you need to always make sure you have a cover photo for your Page. A cover photo is a photo that occupies the space at the top of your Facebook Page. It allows you to upload a much larger photo to your Page, and it's a great place to show off some of your awesome products.
Take a look at our Facebook Page for an example of how you can use the cover photo section of your Page.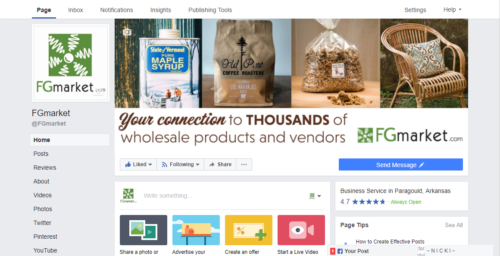 Regular Posts
How often are you posting on your Facebook Page? You need to make sure you are regularly posting on your page to keep your customers interested and aware of your brand.
As a general rule for Facebook, it's best to post at least 1 or 2 times per day during the week, and maybe once for the entire weekend. That's because people tend to get on Facebook, scroll through their news feed a bit, and then get off. The way Facebook's news feed algorithm works, it is going to show you the most interesting or relevant posts for your first, which means that you have a good chance of showing up at the top of a customer's news feed if they interact with you a lot.
You don't want to overwhelm people with too many posts. If all they are seeing are your posts clogging up their feed, they are more likely to Unlike your Page or Unfollow you so they don't see your posts.
Share It
Last, but certainly not least, you need to share your Facebook Page! What good is having a social media page if no one knows it exists?
Just like you share your contact information and, hopefully, your URL with all of your customers on any piece of marketing material, you also need to share your Facebook Page with them.
Do you have a website? Place a button link to your Facebook Page on it! You need to be promoting all of your social media accounts, not just your Facebook Page, on anything you are showing customers.
Social media can be a great way to get people to your website and buying your products or services.
Facebook is a great way to market your business online. Don't be afraid to use the platform that over 1 billion people worldwide are using each and every day. Just use these four simple tips to make sure you're getting all you can get out of your Facebook Page.