Cancer. A sickness that rips through families, cancer is a sensitive subject. Kathy Honey-Murphy faced cancer head on in 2011 when she was diagnosed with stage 3A breast cancer. Kathy battled through eight rounds of chemotherapy and 28 sessions of radiation. One thing she quickly found was that people don't really know what to say in a situation like that. It seemed to always be the elephant in the room.
Cancer Girl LLC was birthed from the desire to provide an avenue for family and friends to bring thoughtful, yet comedic gifts. Cancer Girl is known for their greeting cards and Kathy has taken creative ideas and turned them into the perfect greeting card. She has cards for him and her. The most iconic "for her" card is definitely the card depicting paint-on eyebrows. It's quoted as saying that a perk of chemotherapy is the ability to paint eyebrows on for any mood! The "for him" collection is highlighted by an equally witty greeting card. This one features "Cammo Therapy."  It's sure to lighten the mood!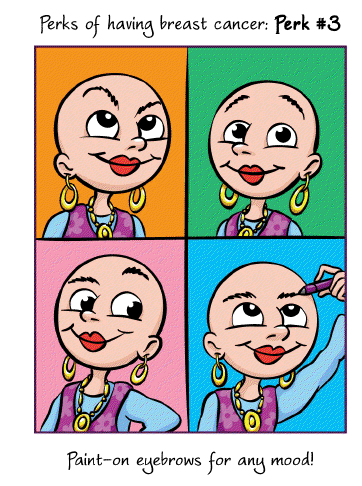 Cancer Girl also extends the giving to a collection of hard goods. Cancer Girl's favorite slogan, Fighting Back With Attitude, is featured on their coffee mug. Custom flower lotion bars are also highlighted on the site. These bars are all natural and produced in Minnesota. They are the perfect lotion bars for patients receiving cancer treatment. Another unique and beautiful gift is the dark purple knit hat. A bright and lovely flower is sewn on the front. One more thoughtful gift is the jar of natural deodorant. It's a coconut-based deodorant that is made with all natural ingredients.
Kathy Honey-Murphy wants to squash the big elephant in the room. She wants to bring laughter and joy to a dark situation. The most important thing for a cancer patient is love, support, and understanding. Bringing little pieces of comedic relief with Cancer Girl products is just the way to express your concern. When at a loss for words, find Cancer Girl LLC and their amazing products!