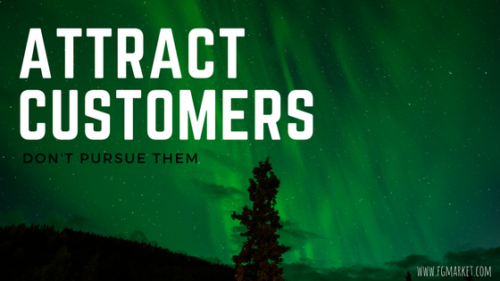 What does it mean when something is attractive?
One of the most obvious examples of attraction is when someone is attracted to another human being, whether through physical, mental, or spiritual attraction.
Attraction means that someone, or something, has certain qualities that make a person want to gravitate toward them. In regards to businesses, customers can be attracted by various factors, such as quality, price, customer service, features and more.
The attractiveness of your business can help bring in new customers and convince them to purchase a product or service from your business instead of your competitors.
So, the question is, how do you make your business attractive to customers in a way that will bring them in to your website or storefront, without having to spend countless dollars on advertising and promotion?
Unique Products
In order to attract customers to your business, you have to sell something that they can't find anywhere else; or you at least have to create the illusion that they can't find it anywhere else.
You need to figure out your USP (unique selling proposition). Your USP can be anything from a better price for product, or something that makes life easier for your customers. Find your USP and take advantage of this to attract customers to you.
Great Website Design
Do you pay attention to the way your website looks, or do you have the same design that you've had since the late '90s dot-com bubble?
In other words, is your website outdated by today's design standards?
Whether you know it or not, customers do, in fact, pay attention to the way your website looks. Many customers, especially millennial-aged customers and younger, will be immediately turned off of your business if your website looks like it came from the decade that they were born.
Update your website with modern design components to give an aesthetically pleasing space for your customers to explore when they're shopping online.
Attractive Pricing
How are your products and services priced compared to your competitors? Are you offering the same or better products for a less expensive price point?
Shoppers are motivated by many things, but one of the key motivations for purchasing a product is a good deal.
Research at what price your close competitors are selling their products, and then adjust your pricing to offer a better deal to customers.
There aren't many things more attractive to customers than a good deal on a product they want.
Commitment To Customer Service
Do you have good customer service?
Let's back up for a second: what does good customer service entail? Does that mean being overly nice to customers, or answering their questions promptly?
Good customer service can mean many things to many different people. But, what most people agree on, is that good customer service is all about helping customers solve their problems efficiently, and in a friendly manner.
When people know that your service team is exceptional and go out of their way to make sure customers are taken care of, that's very attractive.
If you're looking for a new way to bring customers to your business, than making yourself more attractive, rather than aggressively pursuing customers, is the way to go.