Access to interesting and unique items is a boon to any business owner. Having items that your customers want but your competitors don't have is integral to running a successful business. So you keep an eye out for something that might spark customer interest that isn't already filling the shelves of the shop down the street. For a one-of-a-kind item that will get your customers buzzing, check out The Clock Lady!
A Product Worth Your Time
JoAnn Shorter, the owner and operator, is an artist, and her medium is clocks. She offers a wide variety of pre-made designs available in her signature style that range from animal pictures to a heroes collection and even a pop culture collection. Each of these clocks is designed by JoAnn to be visually appealing and of course, functional.
Each piece is American made right there in Marietta, GA, even the inner workings of the clock mechanism are made in America whenever possible. The image is printed on a quality, matte photo paper and is adhered to an eco-friendly wood product (Masonite). It is then sealed for added protection!
Get Your Clock Custom Made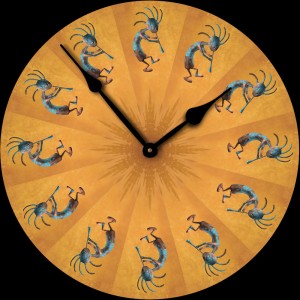 If your customer would like a more personal product, they can get a clock custom made with their own photos. Though the artwork concept is the same for ready-made and custom clocks, the size options, assembly process and materials differ slightly.
After your custom clock is designed and then approved by you, the final image is printed on high quality matte canvas. This allows for superior color depth and a subtle texture that gives each piece its own elegance. All printing is done in-house on a professional grade wide format printer. This equipment utilizes twelve separate pigment ink cartridges to provide a full range of beautiful true-to-life colors that will remain fade and moisture resistant. The printed canvas is then carefully adhered to and hand wrapped around a wooden, circular background. The wrapping technique gives the piece a finished edge on all sides but seams are present, just like a fine unframed art canvas you might see on display in a museum.
So if you're looking for a unique item your customer's will love, contact The Clock Lady!