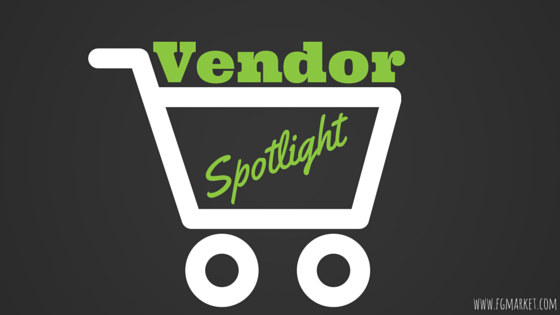 The beauty is in the details at Notting Hill Decorative Hardware with a luxury line of handcrafted hardware.
Notting Hill Decorative Hardware has offered artisan products for cabinets and furniture since 1996 in Wisconsin. Produced at a fine arts foundry, the distinctive line of period piece knobs, pulls, back plates and appliance pulls are unique and for anyone who appreciates special themes in hardware.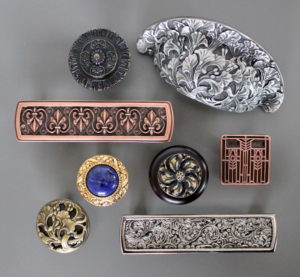 Each design is cast with intricate detail, hand-finished, and select pieces are embellished with enamel, crystals, semi-precious stones, hand-painting, and pearls. Notting Hill's products are the case of fine pewter or solid bronze and plated with multiple finish options.
Classic, Victorian, tropical, romantic, eclectic and rustic style collections are all available! In over 20 years, Notting Hill has progressed from just 12 original knobs to over 200 current designs, ensuring a personal fit for any piece of furniture. Timeless and artistic beauty is an element in every part that is proudly made in the U.S.
"My wife and I looked at hundreds of pulls in a variety of stores. The combination of look, heft and unique design of this pull won out for our kitchen cabinets. We bought another Notting Hill design for our bathroom vanity. When you pay good money for custom cabinets, it pays to also go with top-notch pulls," one customer review.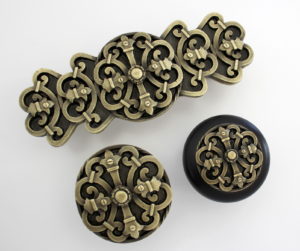 Intricate motifs in satin gold, dark brass, and antique pewter make it easy to match any style or color of furniture and cabinets. The knobs and pulls at Notting Hill boast jewels, fruit motifs, flowers, and much more. Classic favorites such as the prairie tulips, kitchen ID, and ginko-inspired florid leaves designs are a tried and true choice.
For a truly custom piece of hardware, the initials collection in antique pewter or brass is perfect for any customer. The nature collection includes leafy branch, rainbow trout, deer and oak leaf designs that blend perfectly in cabin or lodge settings. Are you dreaming of paradise? Colorful palm trees, starfish, and the seaside collage designs can brighten up any decor. Maybe you're looking for something new. Then check out the Victorian jewel, jeweled lily, and Celtic jewel collections that feature a variety of semi-precious stones and now come in a new color: Living Coral!
Customizing furniture and cabinets is a breeze with the bountiful selection at Notting Hill Decorative Hardware. Exceptional quality and attention to detail in every product produce items that will leave you overly satisfied. Order quality decorative hardware to complete your home today!