What makes food truly gourmet isn't just the quality or the superb taste, it is the experience of the company who makes it.
Meacham Hams is a company that values the quality of their gourmet products and has been doing so since 1932.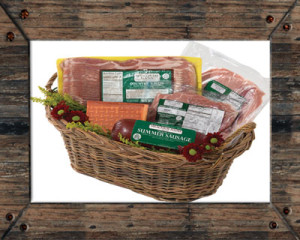 An Age Old Business
For Meacham Hams, gourmet food is the family business. For over 80 years, the company has been in the Meacham family and continues to this day.
Now taken over by Amanda Meacham Coy, Meacham Hams continues curing hams with the same recipe her grandfather, William Meacham, used when he began the business. Yet, the recipe goes further than that–to William Meacham's own grandmother.
Five generations later, the Meacham family continues to give the same level of delicious home cured hams.
Taste of Quality
Their featured product, the Derby Cooked Country Ham, is a mouthwatering prize winner. Judged "Best Tasting" at the Kentucky State Fair, this ham is cured for 5-6 months and slow moist-cooked for 24 hours. After that, it is glazed with peppers, cloves and brown sugar.
The sweet and mild taste makes this ham a customer favorite and completes any holiday or weeknight dinner.
Using over a century old recipe, the company stands by their goal of supplying customers with gourmet hams.
"We want to provide quality gourmet products paired with good southern hospitality," said Amanda Meacham Coy.
This family operated business offers country hams, desserts, seasoning meats, and more. For quality gourmet foods to fill your shelves, look no further than Meacham Hams.