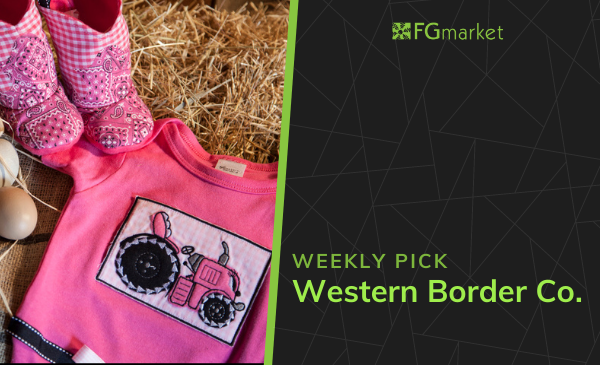 Looking for unique wholesale western, rodeo, farm, outdoor, and faith-themed apparel and accessories? Caroline Riepler, owner of Western Border and Co., designs and creates handcrafted items that stand out from the rest!
Western Border and Co. products are handcrafted right in Colorado, USA. Caroline pours her heart into every little detail, creating a line of must-have products for infants and toddlers everywhere. Plus, adult products coming soon! Her company started getting attention within the media and has been featured in People Country Magazine, Channel 9 News, Western Horseman, Canadian Cowboy, Western Lifestyle Retailer, and more. Western Border and Co.'s renowned products are perfect for any boutique!
Bring a smile to your customer's face with high-quality baby apparel and accessories! Explore a variety of themed onesies that are perfect for little ones everywhere. Each onesie is embroidered with care to ensure your little one's utmost comfort. You can also find various other baby products such as Bandana Bibs, Burp Cloths, and Baby Soft Cowboy Boots/Booties. Perfect for baby shower gifts and more, both moms and babies are sure to love these products!
Looking for western accessories to go along with any look? Western Border and Co. offers a variety of Cowgirl, Bohemian, and Country Chic style bracelets! Adults and kids alike can style their look with themed selections of embroidered fabric bracelets. Limited custom orders are also available.
Each work of art from Western Border and Co. is made with care and attention to detail to ensure that customers receive the highest quality products so they can enjoy them for years to come. Add a little country to your shop and check out everything Western Border and Co. has to offer today!
Find out more about Western Border and Co in the video below or at www.westernborderandco.com!