Just mentioning Sweet N Sassy BBQ Company triggers a mouth-watering response! What makes barbequing unique is all the flavors from around the United States. This company concocted BBQ sauces made with all natural flavors and spices. Each one is hand-crafted right there in Virginia and they have a flavor for every palette.
Mouth-Watering Sauces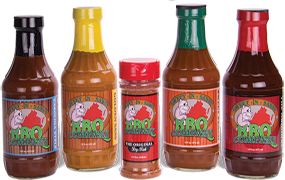 Four distinct and decadent sauces will please those taste buds. Sweet N Sassy's hangs its hat on their "Original Sauce." Their namesake and award-winning sauce combines a blend of spices for that sweet and sassy punch! An ode to North Carolina BBQ is featured in their "Carolina Style Sauce." This creation features robust flavors and a tangy punch.
Want to add that sweet tang to your poultry, beef, and pork? Make sure to grab a bottle of the "Sweet Peach Sauce." Caramelized onions and peaches will take your mouth on a ride through BBQ heaven. Their final sauce is the "Golden Sass Sauce." It brings the versatility to the line of sauces by adding that extra heat! It's a mustard based sauce that brings the most intense spice of all their sauces. There is a flavor for every desire.
Don't Forget The Dry Rub
Any BBQ connoisseur will demand a Memphis-style dry rub. Sweet N Sassy can provide just that. The "Original Rub" goes great on pork, poultry, fish, or vegetables. It's a perfect blend of sweet notes and savory spices that your customers are sure to love. For the steak lovers, a must have is the "Black Magic Rub." This creation is full of complex flavors, tasty spices, and a hint of coffee. It's designed specifically for red meats, and after one taste you won't season with anything else!
This company provides your customers with a unique experience sure to satisfy even the most distinguished BBQ enthusiast. They offer wholesale pricing that will make their products available at a price that is as good as the sauce! If you're looking for a one of a kind mix, Sweet N Sassy BBQ Company is the one for you.