If you're a florist, one of the most important things to have is a proper refrigeration system for your beautiful floral arrangements!
At Flot-Aire, they make floral refrigeration systems that are guaranteed to keep florists' precious products well hydrated, cool, and gorgeous!
History
The idea for a refrigeration system for flowers came about way back in 1927 when 20-year-old Karl Lauer migrated to the U.S. from Germany. He brought with him master's papers in coppersmith and sheet metal fabrication, which helped him design his "pancake refrigeration system." This was a small and compact system used in the commonly utilized wall-hanging pie cases found in the restaurant industry.
Later, in 1947, Lauer founded Karl's Equipment Co. in Los Angeles, and then sold the company to Pacific Refrigerator Mfg Company, where he also worked for many years. It was here that he came up with the design for his Flot-Aire coolers! The Flot-Aire company was founded in 1962, and currently operates out of Rolla, Missouri.
Amazing Products
Flot-Aire offers the best floral refrigeration systems in the business. Their coolers are built with sliding and swinging glass doors, that provide high-capacity refrigeration systems for super fast cooling, even in extremely hot weather.
No one likes to buy flowers that have been damaged due to being improperly handled, or placed in an environment with temperatures that are too extreme for them. People want to buy fresh flowers that will last days, not hours. That's why the reach-in coolers are so great!
These awesome reach-in coolers come packed with features, and are completely self-contained, meaning all you have to do is plug them in and they're ready to be used!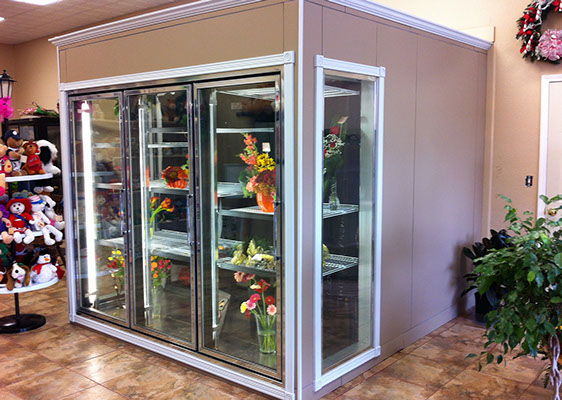 They feature vertical fluorescent lamps that are switch-controlled and adjustable wire shelving for safe and easy product loading and removal. The Low E and argon-filled double panel glass doors are also self-closing, preventing cold air from accidentally escaping if a door is mistakenly left open.
But if you need more space for your wonderful floral arrangements, Flot-Aire also makes a display walk-in cooler combo, that's perfect for keeping a lot of plants fresh at once, while also functioning as an attractive display case.
These walk-in coolers feature a single compressor to do the job, keeping everything inside cool while reducing noise and heat generation. And the best part? These walk-in coolers can be custom-made to fit any size and need!
Flot-Aire doesn't just make great refrigeration systems; they make the BEST refrigeration systems. They'll keep your flowers cool throughout the blazing summer, and all year round!