Add a little delight to everyday life! That is the philosophy of Frazzled & Bedazzled, a wholesaler of stylish gifts and accessories. What originated as a stationery company, Frazzled & Bedazzled has expanded to become the "go-to" seller for every cute and chic gift/accessory.
These products are beyond delightful, they are absolutely adorable!
If you are a boutique, gift shop, or florist, these personalized gifts are the hottest trend to follow this year! It's time to start thinking about finding a supplier for your Christmas product mix— Frazzled & Bedazzled is the obvious choice for the most profitable Christmas season yet!
Collections of Frazzled & Bedazzled
Besides stationery, they carry other products such as: notecards, address books, journals, kitchen accessories, baby clothes/accessories, Greek affiliation accessories, and more! The newest lines include embroidered beach towels, coozies, and melamine plates.
Make any Frazzled and Bedazzled gift special by customizing it with embroidered initials! Entice customers into your store with colorful, personalized gifts in polka-dotted patterns.  These items are top of the line presents for customers seeking gifts for weddings, baby showers, birthdays, or special occasions. Your customers are guaranteed to find something to take home for themselves as well!
Newest Products
I've already mentioned the newest additions to their product mix: beach towels, coozies, and melamine plates. What makes these items so special? The fun, flirty designs make cute gifts or party supplies!
The plush beach towels come in vibrant velour colors like lime green, hot pink, and now Christmas colors. The towels have a black and white polka-dotted ruffle around the bottom and an embroidered letter in the middle.
The coozies come in the same vibrant or festive colors and can also be personalized with an initial.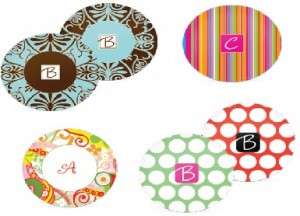 The melamine dinnerware consists of plates adorned with bright colors and playful designs. A few of the designs are different interpretations of floral designs, abstracts, polka-dots, stripes, and damask patterns. The colors range from pinks to reds to yellows and blues. These vibrant plates would look great for summer-time parties and social gatherings!
Beat the rush! Buy your essential Christmas gifts and stocking stuffers from Frazzled & Bedazzled! Christmas is 6 months away, be the first gift shop or boutique to carry the hottest presents this year! Make sure your customers tell all of their friends they found this years best gifts and trends at your store! Your customers will be so "frazzled" with the unlimited options for cute, "bedazzled" gifts, they won't be able to pick just one!