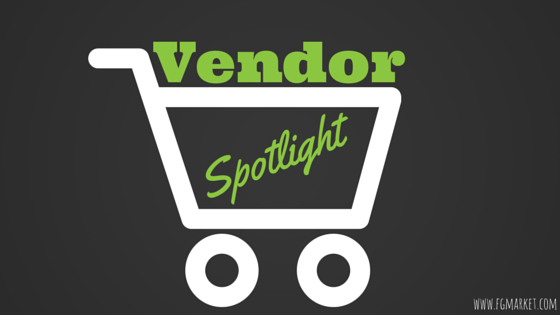 Aspen, Colorado-based Rocky Mountain Leaf Company specializes in handcrafted jewelry made from leaves, cones, and acorns — truly unique pieces for any nature lover!
Since 1974, the family-run business has created durable, one-of-a-kind jewelry pieces with a dedication to preserving nature "so that is can be enjoyed and treasured forever."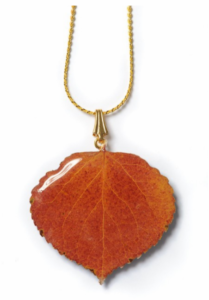 Freddie Fisher invented the electroplating technique that transforms leaves into remnants of their vein structures. The pieces are coated in copper and finished in 24K gold, fine silver or iridescent copper. Each leaf, cone, and acorn is carefully chosen for its size, shape, and quality.
Rocky Mountain necklaces feature stunning Aspen leaf charms, covered in shining copper, gold, or silver. For those who prefer sticking with the standard colors in nature, the Natural Aspen necklace boasts a gorgeous Aspen leaf in its natural color. Sugar maple, oak, birch, and cottonwood leaves also adorn these simple chains as well as acorns and pinecones. Add a touch of personality with an amethyst, pearl, turquoise or onyx stone!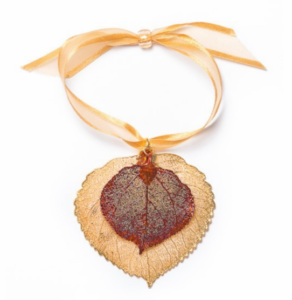 The bangle bracelets created at Rocky Mountain are just as customizable. A variety of leaves, acorns, and pinecones can be mixed and matched in all colors to fit any style. Looking for something flashier? The crystal bracelets off black, blue, green, iridescent, pink, purple, red, and yellow crystals with a choice of leaf finish and type.
Rocky Mountain Leaf Company offers more than just jewelry. Christmas lover rejoice: ornaments in each leaf type and finish are also available! The delicate leaves are strung with color coordinating ribbon that will bring beautiful, natural colors to any style of Christmas decor. The holidays are also a time for good food and drinks: tag guests' wine glasses with varying wine charms that hook around glassware stems to ensure everybody keeps the correct drink in hand.
Rocky Mountain Leaf Company carefully brings the wonder of nature into each and every one of its products. The beauty of each leaf, acorn, and cone is perfectly preserved in any piece, making them a perfect gift for any season!