Gourmet food is always a big seller in stores. They make great gifts and your customers enjoy treating their taste buds to delicious foods. And, they will definitely enjoy Graber Olives. Why? Their full golden appearance olives are truly bursting with a unique flavor and will become a must have appetizer for anyone. These will be a staple for any kitchen pantry.
A Family Tradition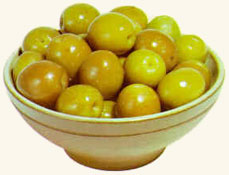 Their tradition includes 100 years of hospitality and friendly service while offering gourmet olives. Since 1894, Graber Olives continue to be enjoyed by generations of families throughout the world. Their focus on their product, as well as their customers makes this company a delight to work with and a must have on your shelves.
What's The Graber Difference?
What exactly does this mean? It's what makes their olives stand out against everyone else. A rare combination of delicious flavors and succulence is what makes these olives tasty and delicious. Allowing to mature until they reach a cherry red color enhances the natural buttery flavor making tree-ripened the important difference in these olives. The natural ripeness and delicacy flavor is preserved by carefully selecting and processing the best ones. They are carefully graded for quality and are processed without oxidation or artificial coloring. Delicious flavor and eating qualities are what this company firmly believes in.
What They Offer
Graber Olives offers tree-ripened olives in various sizes and imported Spanish olives. You'll also find olive oil, fruits, nuts, gift baskets & boxes and dates. These all make great pairing with their olives and your customer's kitchen pantry.
Go ahead and experience The Graber Difference. You and your customers won't regret it.