Kan Del's Floral, Candles & Gifts is committed to bringing its customers the quality and customer service they deserve. That's not just their business model, it's their way of life.
This Christian-based company from Plainview, Texas sees their business as a way to spread the love and good will of their faith with everyone they meet.
"Our approach is that of a servant's heart, and we always strive to exceed our customer's expectations for your complete satisfaction," said Donise Foster, owner of Kan Del's Floral, Candles & Gifts.
One product that Kan Del's is well known for is their high quality, beautifully scented handmade candle creations. Since 2004, Kan Del's has been offering retailers amazing candle products nationwide. Each candle is made with love and care, and only the best candles are shipped out to customers.
Hand Poured Candles
All of Kan Del's candles are hand poured by qualified professional candle makers. These candles can add the perfect mood to any home or office, and the warm gentle flicker of the flames will soothe any soul.
There's no shortage of scents available from their hand poured candles; they have more than 150 intriguing scents available! From Amaretto all the way to Yuletide, they have scents that will fit the mood of any setting and add a sense of calm wherever they're burned.
Kan Del's assures its customers that their artisanal candles burn longer than candles that are made by machines in a factory. Not only that but they also have artisan candle makers on the job creating their wonderful scents, so you can be sure that you're getting a great deal when you buy from them.
For their hand-poured scented candles, they have three sizes available: 6, 12, and 22 oz. candles. No need for customers to search for the perfect sized candle to fit their home decor, they can find it all it Kan Del's!
But Kan Del's isn't just a master of hand-poured candles; they're also pros at providing customers with amazing scents in a variety of other forms.
Wickless Simmering Chunks
Take their Wickless Simmering Chunks as an example. These wax melts offer the same amazing scents, from A to Y, as the hand-poured candles, but without the need to light a wick. All you need is a wax warmer and an electrical outlet, and you're on your way to experiencing the most majestic scents your olfactory system has ever experienced!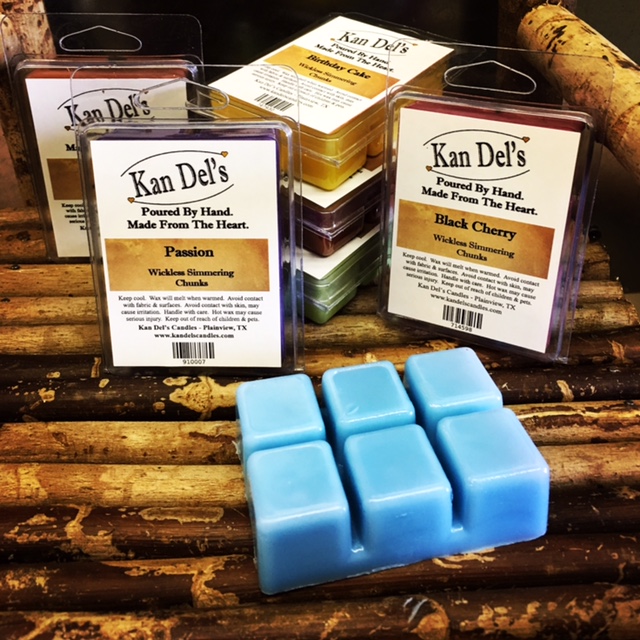 Kan Del describes their Wickless Simmering Chunks like this:
Bask in the ethereal warmth of tiny flickering flames from our Wickless Simmering Chunks. See room interiors come to life as gentle light dances all around the walls. At the same time, enjoy the refreshing aroma of natural scents wafting in the breeze.
Whoa, doesn't that sound amazing? Your customers will love these awesome products, and be sure to buy your wax warmers from Kan Del's as well! They have a beautiful crystal warmer that will add beauty to your home and blend in with any decor. They are available in a number of colors, including clear, black, chocolate and red.
Room Sprays
Finally, if you're looking to get the great scents from Kan Del's without the wax, well, they've got you covered there as well. Room Sprays by Kan Del's gives you the delicious and refreshings scents available in all of their candle and wax melt products, but in a handy spray bottle. They're great for freshening up any room, no matter how musty it may be! These sprays are made from highly concentrated oils, making their scents linger longer than other water or aerosol-based sprays.
Kan Del's Candles, Floral & Gifts doesn't hold out on providing the highest quality materials available for their awesome candles, wax melts, and room sprays. Give your customers the option of products made by Kan Del's and watch your business grow!