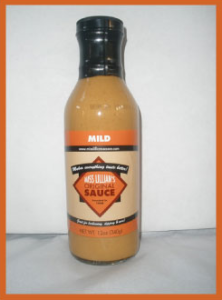 If you carry barbecue sauces or any type of cooking supplies at all, (and if you don't, you might want to start) I've found the next item you're going to want to stock. This is a sauce perfect for barbecue, meat in general and even use as a dipping sauce. Let me tell you about Miss Lillian's Original Sauce!
Traditional Taste
This sauce has been widely revered since its inception in 1968 when Miss Lillian first began serving it to family and friends. It became an immediate staple at the dinner table, and has been passed down to the subsequent generations. To this day, the sauce is still a beloved family tradition.
Available in delicious mild and the always taste bud-pleasing spicy, your customers won't be able to get enough!
Use It On Everything
Miss Lillian's is so versatile, your customers can use it on almost any meat. And it's not just good for use as an amazing coating, it also makes for a delightful dipping sauce usable with sandwiches, chicken strips,  fish sticks and even fried or steamed shrimp.
And if your customers are looking for ideas for how to use Miss Lillian's, the website has a full page dedicated to fantastic recipes that have been tried and tested to be exquisite!
If you want to carry a barbecue sauce that will fly off your shelves, try Miss Lillian's Original Sauce!