When John Willcoxon created his first art piece, he couldn't imagine it would turn into a career he loved.
His art creations have evolved into the new business called The Willcoxon Collection. Made out of iconic metal and reclaimed wood, these pieces have captured people's eye and that of some notable industries.
In The Media
Characterized as iconic metal married to reclaimed wood, Willcoxon has created pieces for recognizable figures such as C-Spire, the Governor of Mississippi, and as awards for the music industry.
His design for the first Hill Country Music Award was received by Rock and Roll legend, Jerry Lee Lewis.
These acclaimed pieces can be found on the walls of talented musicians as well as on the shelves in your store.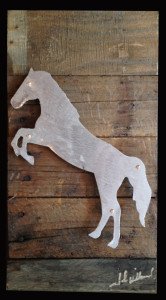 Unique and Intriguing
From crosses to western themed, Willcoxon's creation varies to every type of hobby and interest imaginable.
As gifts or for the home, these pieces hang beautifully in an open space and reflect the personality of one's home. Customers will love to gift a music lover a guitar piece for the holidays or gift newlyweds a symbol of love.
Have something specific in mind? Willcoxon also creates custom pieces in a variety of sizes. Hang in your office or even to decorate your store. With Willcoxon Collection, enjoy a piece of art that reflects you.