Debra Marino had one goal when she started up her company Play Love Laugh, Inc. and that was to create a safe and natural beauty product everyone can enjoy. She succeeded.
With a background in nutrition and health, Marino has created a line of natural nail polish that has truly captivated customers due to its innovative ingredients–fruits and veggies.
Health-Forward
As the only manufacturer of plant-based nail polish in the world, this company is geared toward eco-friendly users and families.
As a mother, Marino understands customers who want to keep their children away from the exposure of harmful toxins, even in everyday products.
"It's as natural as it gets," Marino said. "I wanted something safe and natural not just for my family, but for everyone."
With minimal ingredients, this nail polish is available in a variety of colors that are non-carcinogenic, free from plastic, and use non-toxic pigments and glitter.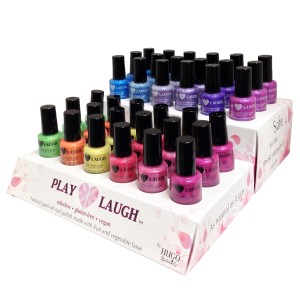 Truly Original
From girly pinks to glittery blues, each set of nail polish is fun and safe for girls and women of all ages. Not only are these natural polishes plant-based, they also lack an odor, don't need a top or bottom coat and are the first ever with a patented formula of peel-off polish. They are waterproof and dry quickly, too!
Made without nitrocellulose, alcohols, acetate, acetones, ethers, and FD&C's, join stores such as HugoNaturals, and carry these healthy beauty products in your stock as a new customer favorite!
The goal of this company is for women of all ages to enjoy their beauty without sacrificing their health and the health of their families. Vegan and cruelty-free, introduce your customers to an innovative nail polish from Play Love Laugh, Inc.