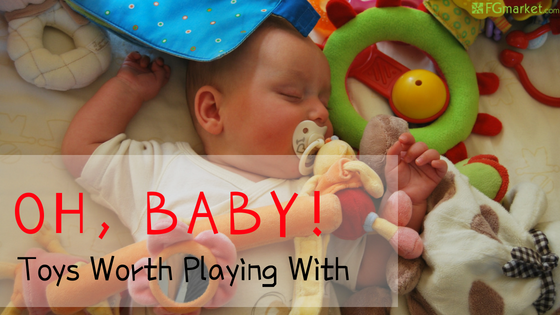 Are you ready to shake, rattle, and roll!? We are! It's no secret that the baby business is booming. From 2017 to 2018 alone, the infant, toddler, and preschool toy industry has grown 6%. Considering that the study, published by The Toy Association, only contained data up until April of 2018, this is a pretty good indication of the future of the industry. For retailers and wholesalers alike, this is great news. The only trouble might be finding the right kind of toys to keep on your store shelves. We've done a little research of our own and found that there are a few kinds of baby toys that parents really go crazy over. 
The Classics
Some toys stand the test of time and can be found from generation to generation. Stacking rings, rattles, and stuffed animals are just a few examples. These are the kinds of toys that many people remember seeing throughout their own childhood and loved playing with. The nostalgia that is associated with these kinds of toys is what makes them toy store staples that are always customer favorites.
Eco-Friendly
These days most industries have an eco-friendly niche. The baby toy industry is no exception. Parents want what's best for their child and the earth. From toys made with recycled plastics to organic stuffed animals, eco-friendly baby toys are becoming increasingly popular. Although prices can sometimes be a little higher, these jewels are definitely worth having.
Learning
Classic, organic, or from another planet, learning toys are the cream of the crop for baby toys. Stimulating children's cognitive growth from an early age is paramount. Parents want to know that their child is on the right track to succeed in life and this can all start with something as simple as a colorful toy or even a mirror. If you don't already, consider investing in some high-quality learning toys. You won't regret it.
The toy industry has been in business for a long time. The demand for baby toys, in particular, is increasing and is a worthwhile investment for retailers of all kinds. FGmarket has many wholesalers who specialize in all kinds of toys, from stuffed animals to sensory development. Take a look around and see if you can't find something new to play with!