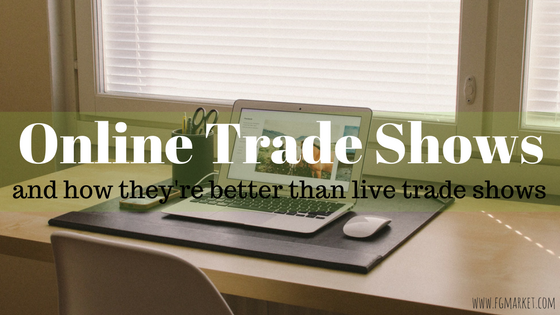 Trade shows are the bread and butter of wholesale businesses. It's where vendors go to show off their amazing products, and retailers browse for those amazing products and services.
People in the wholesale industry will plan out trips to these trade shows, often months or years in advance, and make it a big part of their annual business plan. They aren't always close by, either. Many of the trade shows are spread throughout the U.S. and Canada and require expenses to travel to them, as well as lodging and food. But what if there was a way to get all the variety and experience out of a wholesale trade show without the time and expenses required to attend them?
The good news is, this kind of thing already exists, and you're currently on a website where we just so happen to provide such a service for both buyers and sellers of wholesale products.
FGmarket is an online wholesale directory that's always open and available to you. Here are a few reasons why we're better than other trade shows.
Always Open
Unlike other trade shows where you have to show up to a venue at a designated time and date, online trade shows are always open. It's really a no-brainer: the internet never closes, so why would an online trade show? You have 24/7 access to thousands of vendors, all in one spot. And you can shop on your time. No more time constraints and scheduling your work time around a trade show's time. If you're a vendor looking to get listed in an online directory, online trade shows also allow you to be available to your customers at any time of the day, no matter where they are.
Greater Variety
Sure, you can go to a trade show with a specific industry focus and find many things you need at that trade show. You can also go to trade shows that cover a wide variety of industries and interests. The problem, however, with both of these options is that they can't cover everything. Physical trade shows are limited by available space, time constraints, money, and more.
If you're a buyer looking to get amazing products into your stores that will drive more sales to your business, then an online trade show is the place to peruse. With hundreds of categories to browse through, including categories for natural, organic, vegan, eco-friendly, and Made in the USA products, you'll find exactly what you're looking for!
Saves You Money
We've already talked about the ways that an online trade show can save you money if you're a buyer or a seller. Travel expenses, booth reservations, tickets to the event, and more add up in the long run and will cost you more than you need to spend to find great products and services. Keep in mind how much money you're forking out just to go to an exclusive trade show when you could be easily finding the same high-quality products on the internet through an online trade show like FGmarket provides.
Great Customer Service
Online trade shows also offer something that physical trade shows could only dream of having: great customer service. FGmarket's sales representatives are happy, friendly, and helpful people who want to make sure you get the services you deserve to help your business succeed in the B2B marketplace. When you sign up for an FGmarket listing, you will be shown all the amazing tools available to you through your vendor profile. There's no question about it: online trade shows are more friendly toward vendors and buyers.
Added Bonuses
Let's not forget all the added bonuses that come with an online trade show that live trade shows simply can't provide. Specifically, the reach that online trade shows provide far exceeds what a live trade show can give you.
The internet is vast and far-reaching. Whereas live trade shows are limited to a specific city, state, region, or even country, the internet is a global entity. It can reach from one side of the globe to the other, and connect people on the other side of the world in a matter of seconds.
Plus, FGmarket also gives vendors the option of getting their own personal wholesale website set up through us. A website gives your customers an even more personal connection to your company and allows you to stay connected with them in a more efficient way.
Not to mention, we give you plenty of extra tools, like page analytics, forms for customers to leave reviews, and vendor spotlights highlighting your awesome company to sweeten the deal!
No question about it, online trade shows are simply better for your business than traditional live trade shows. Get connected with an online trade show today, like FGmarket, and see what it can do for your business.