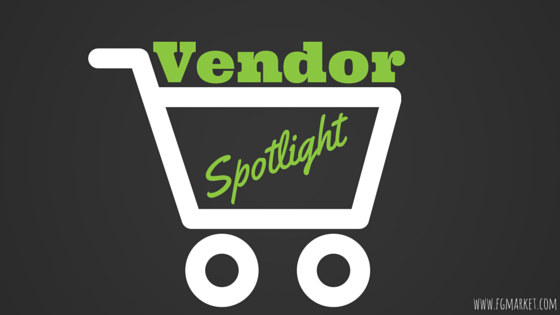 Vendor Spotlight
Only the best peanuts will do at Bakers' Southern Tradition Peanuts, the family farm dedicated to making perfect peanut snacks.
It is the Baker family tradition to use only the best Virginia type peanuts grown on its own farm for a variety of peanut recipes. Salted, Cajun style and even chocolate covered peanuts are taken right from the farm in Roxobel, NC, directly to customers for a fresh taste!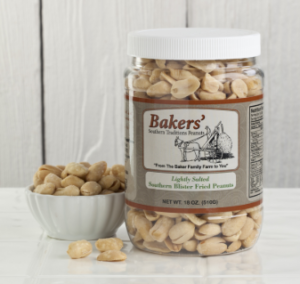 The Lightly Salted Blister Fried peanuts are the most popular flavor at Southern Tradition. These extra large peanuts are roasted in peanut oil and lightly dusted with microsalt for a super crunchy texture. For a more wholesome peanut flavor, try the Unsalted Blister Fried peanuts!
Branch out a little with spices with the Carolina Cajun Peanuts. These extra large peanuts are oil roasted and dusted with a unique blend of Southern Tradition spices to give just a little bit of kick! Get even spicier with the Ghost Pepper peanuts, dusted with one of the hottest peppers in the world.
If you have a sweet tooth, the selection of sweet peanuts is the way to go. Bakers' Southern Tradition crafts a delicious homemade peanut brittle recipe made with real butter and vanilla. It's "melt in your mouth good!" Milk, dark and white chocolate covered peanuts are also available for easy snacking.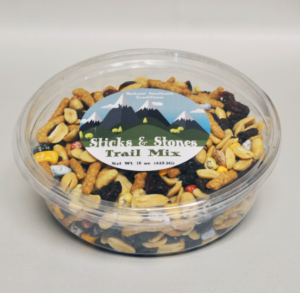 Going out on some trails or taking a camping trip? Pack the Sticks and Stones Trail Mix! This mix is a blend of salted peanuts, sesame sticks, raisins, craisins and chocolate "rocks" neatly packaged in a resealable container that fits perfectly into any backpack.
When the holidays come around, Bakers' Southern Tradition Peanuts is your one-stop shop for gifts. The sportsman will love a handsome tin featuring deer and ducks, filled with Salted Blister Fried and Carolina Cajun peanuts. And any cook will benefit from the Grilling Basket gift set, packed with an Rtic tumbler, spicy rub, peanuts, a grilling cookbook and more!
Get only the best flavored snacks from Bakers' Southern Tradition Peanuts. Salted, spicy and sweet, these treats have it all!