Fresh pesto sauce tastes like nothing you've ever experienced. Sure, you can buy pesto from the store and it'll taste OK, but to really authentic tasting Italian pesto, you need to buy your pesto from the family-owned Romarsi, LLC.
Romarsi, LLC has a solid mission statement that drives everything they do:
Our mission is to bring you all natural gourmet pesto sauce made from garden fresh basil infused with the finest pure olive oil, classic parmesan cheese and other high-quality ingredients, which makes preparing food for busy lives incredibly healthy and easy.
The journey from a family farm to a full-fledged business began from owner and founder Mary Silvestri's own father and grandfather. Her father, Francesco, began the tradition of growing basil from seeds of the previous year, and Mary continued the tradition with her own family. But it was Mary's mother, Ernestina, that introduced her to the famous recipe for making pesto sauce that is still used today to make Romarsi pesto.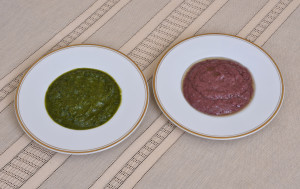 Romarsi's products are made with love and care, to ensure that customers get the best sauce available on the market. Their company supports local farmers who supply the flavorful basil used in every ounce of their fresh pesto sauce.
Their Pesto To Go is a perfect addition to any family's kitchen, and kids will love it, too! The Pesto To Go product can be frozen for later use, or placed in the fridge for whenever you want a quick snack. It's great as an appetizer or main entree and goes well with a variety of tasty foods. Add it to pasta, seafood, chicken, rice, pizza, vegetables and so much more for the awesome flavor of pesto no matter what you're eating!
Not only is Romarsi's pesto sauce delicious and flavorful, it's also made with all-natural ingredients, meaning it's also better for your health than normal pesto! Pesto To Go uses no preservatives and is cholesterol free. It's also naturally low in fat and calories, but high in those ever-important antioxidants. Romarsi promises that their pesto is "fresh and healthy — not cooked and jarred."
Romarsi, LLC also does a lot with their community to teach the art of gardening, basil, and pesto to future gardeners. They have a partnership with St. Benedict's School in Newark, New Jersey that teaches students how to grow basil on their own. They also teach entrepreneur workshops at Montclair State University to MBA students looking to start their own business.
As you can see, Romarsi, LLC not only makes the best pesto sauce around, they are also concerned with helping future gardeners and business owners achieve their dreams. These are just some of the reasons to try Romarsi, LLC's fresh basil pesto sauce for yourself, and let your customers experience the most delicious pesto sauce on the market!