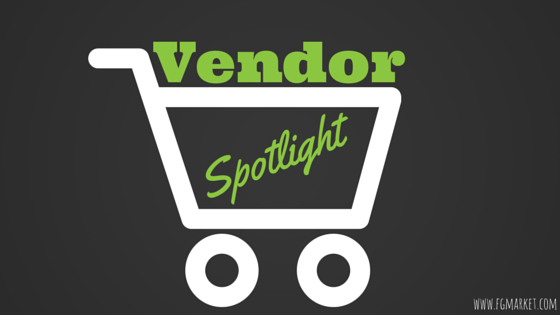 Since 2011, Silvertree Designs has produced fair trade artisan jewelry for quality boutiques, creating not only gorgeous pieces but giving back to others.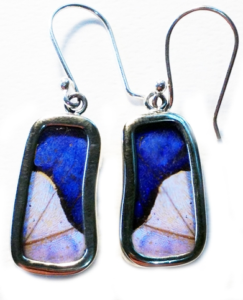 Stuart Smith founded Silvertree Designs after working with Global Exchange's Fair Trade Wholesale division, which eventually closed. Smith carried on the fair trade movement with Silvertree, supporting a butterfly breeding and jewelry artisans project in Peru.
Silvertree is dedicated to providing fair trade environments to aid exploited producers in maintaining their lifestyles. The company provides artists and farmers with a living wage for their work, engages in environmentally sustainable practices, ensures there is no abuse of child labor and provides healthy working conditions.
The artists in Peru raise butterflies as an income generating project. Once the butterflies reach the end of their lifespan, the wings are dried and collected for the jewelry pieces. The wings are then carefully cut and framed in silver, each piece handcrafted by a jewelry artisan.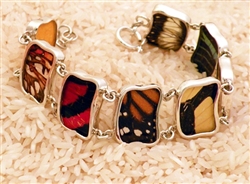 Silvertree Designs uses only the best parts of each butterfly wing and the jewelry is crafted in a way that it can be reversible. Silvertree's collection of butterfly wing earrings come in sterling silver or silver plated nickel, and each piece is unique and fashionable.
Earring sets come in a variety of shapes, ranging from hearts to diamonds, squares, and teardrops. The bright colors of the butterfly wings make the earrings true statement pieces that can match any outfit.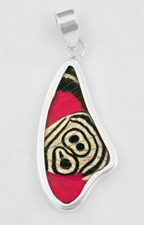 Butterfly wing necklace pendants at Silvertree also come in sterling silver or silver plated nickel. Sold as individual pendants, these pieces make customization a breeze. A teardrop pendant made of a bright red, orange and yellow wing is perfect for fall. Looking for a gift for a sweetheart? Try the heart shaped pendant in a bright, ocean blue.
Pendants and earrings both also come in wing shapes to represent the butterfly each design is based on! You can also wear the beautiful butterfly wings as a bracelet. Each link is a framed wing and comes in a variety of colors.
Silvertree Designs not only creates safe working conditions and gives back to communities, but they produce unique jewelry so customers can look fashionable while helping the environment!