Looking to entice customers with unique gifts? Want your favorite drink to stand out among the rest at a party? Check out Sassy Stuff, an Arkansas wholesaler that carries a variety of artisan and handmade drinkware and accessories that make great gift items.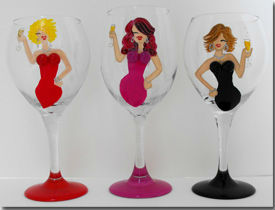 Unique Girly Gifts
Known for their fun "attitude" phrases embroidered or embellished in rhinestones on their products, this wholesaler offers unique girly gifts for any occasion. With products consisting of sequin, neoprene, zebra, leopard, and camouflage fabrics, they can produce small quantities or custom orders.
Need fun bridesmaid gifts? They create perfect gifts for your bridal party, such as hand painted "boobie" wine glasses, embroidered flasks, and fancy wine stoppers. They also provide real mink flip flops for ultimate comfort for any fashionista.
Koozies for Guys
Not only do they create specialized products for women, but for men too! These personalized koozies are a great way for customers to find perfect gifts for their friends and family.
Want to get the avid outdoorsman a special koozie? Keep his beverage cold with a camouflage "I Hunt, She Shops" koozie. Looking for a way to accessorize your spouse's favorite wine? Style a bottle with a wine koozie in his favorite color. These quirky koozies come in various colors that could be paired with his gourmet food as a one-of-a-kind gift.
Their great colors, fun designs, and unique products will truly stand out to your customers and make wonderful gift ideas. By carrying items from Sassy Stuff, customers will keep coming back to your store for any occasion.