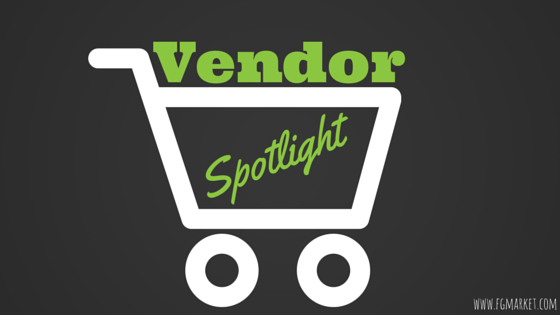 We're not sure which will delight you more: the sheer quality of the products made by Salacia Salts, or the packaging.
If you order the Peachy Clean Gift Basket, you get Georgia Peach Body Butter in a gorgeous blue bottle, a bar of soap in an oatmeal colored drawstring bag, and a salt soak, all perfectly situated in a berry basket. The Aromatherapy Gift Set includes an eco-friendly etched blue glass dish, a tub sachet, a tea towel featuring a mermaid, and salts in their signature upcycled cobalt blue bottle. It's no wonder Salacia Salts has been gifted at the Oscars, The Southern C, and has been featured on Buzzfeed and USA Today.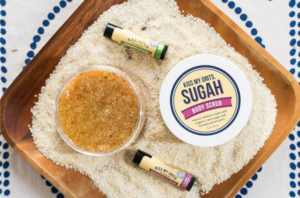 Salacia Salts believes in natural beauty. In keeping with that perspective, they believe that chemicals don't belong on our bodies (since the skin in the body's largest organ, toxins and can extracted through and from it). All of their ingredients and essential oils are naturally occurring, and are never tested on animals. Each product is high quality and made with natural ingredients that have been hand-mixed.
They have a great range of products, too. They offer lip scrubs, lip balm, showertime rocks, hand and body lotion, soap cakes, salt soaks, body scrubs, body butter, shower steamers, bubble baths, candles, and note cards.
Their Kiss My Grits Lip Scrub repairs your lips. All you have to do is massage the scrub onto your lips and rinse them off. You can even lick it off as the stuff is delicious and 100% natural. Get it in original, Peach, or Margarita.
Their bubble baths are the ultimate in relaxation with this product that will produce luxuriously foaming bubbles. You will feel the benefits long after the bath is over as the Shea and almond butters moisturize the skin. Choose from Seersucker, coconut crush, shoreline, Georgia peach, citrus, and sunrays, or drift, all offering their own special scents.
Lighting a candle with the same scent would only enhance the experience. The candle is showcased in a white painted glass with a navy blue salt spray pattern. The candles are hand-poured with the highest quality soy wax blends and fragrance oils. When the candle has burned away, the glass will be perfect for make-up brushes, pens, or anything else that needs organizing.
Peruse their tea towels, each a charming addition to the kitchen or bathroom. They are 100% cotton and screen printed by hand.
Be sure to buy the perfect way to display these products with their display crate, wooden tray, or glass soap dish. The display crate is made from upcycled pallets. The wooden trays are perfect for the shower time rocks, extending the life of the rock. The glass soap dish is a beautifully diamond cut recycled piece that will enhance the look and life of your soap.
For high-quality products that look as good as they work, consider the all-natural products made by Salacia Salts!