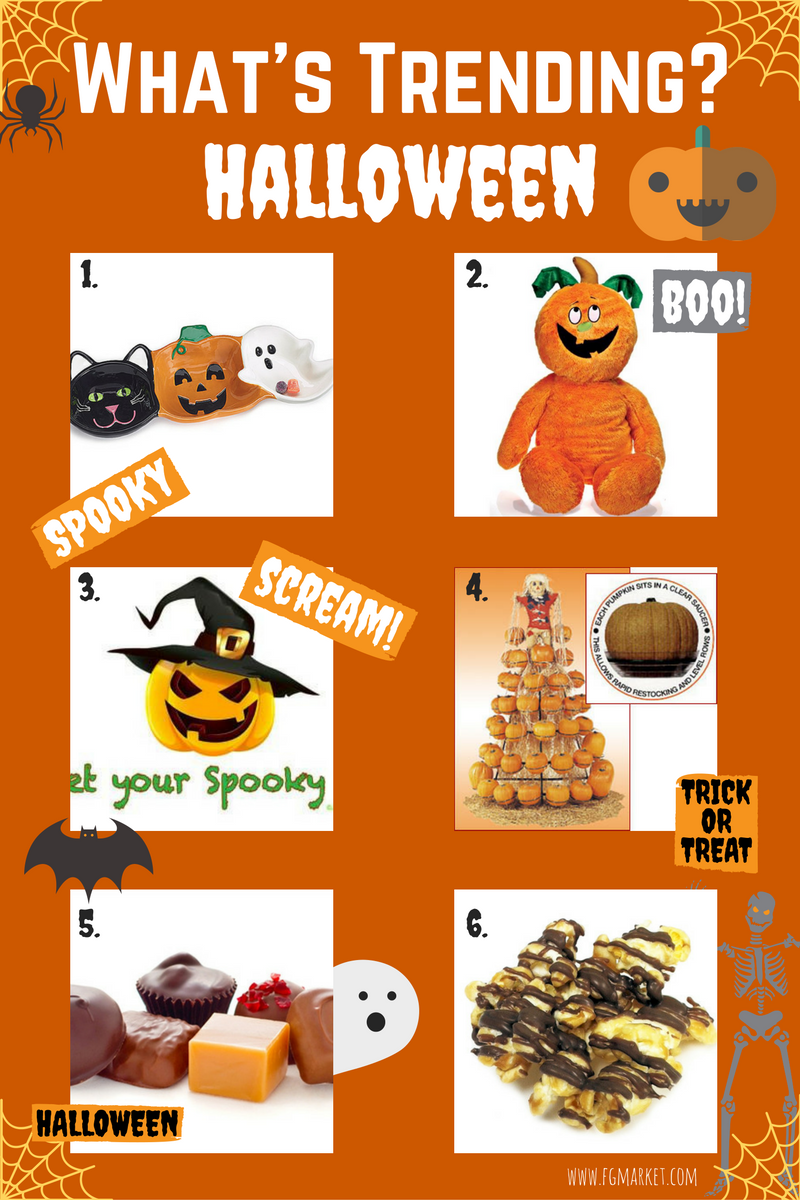 For this month's trends, we're gearing for the spookiest holiday of the year: Halloween! Whether it's scary decorations for trick-or-treaters, or delicious snacks for that Halloween themed party, you can find it all on FGmarket.com! Check out some of our favorite products, and be sure to browse through all of our holiday categories to prepare for the next holiday, or even the next Halloween!
Halloween is a holiday best celebrated with close friends. And what better way to celebrate together than with a Halloween-themed party? The folks at burton + BURTON have you covered if your customers are looking for a Halloween relish tray to hold all of their tasty treats!
Fiesta Toy Company are pros at making the cutest and cuddliest high-quality plush toys on the market. Your customers will love their selection of Halloween-themed plush toys, including their Pumpkin Man! This 26.5″ tall plus sized plush is made from quality, soft fabrics that will bring a small to any trick-or-treater's face!
Ever heard of a Postcard Towel? You're going to want to pay attention to this awesome product! These eco-friendly tea towels are lint-free, extremely absorbent and launder amazingly well! The Postcard Towels sold by Jazzy Artz, Inc. are not only great for wiping up messes or drying off, they also feature fun designs, such as the "Get Your Spooky On!" Halloween-themed towel!
Are you looking for a fun and creative way to display your pumpkins? You'll love the solution from Creative Display Center! Known for their floral display racks, Creative Display Center also has a wonderful Full Round Pumpkin Rack that will hold up to 64 pumpkins! They're great for showing off your products to eager customers looking for the perfect pumpkin!
What's Halloween without the treats? Enstrom knows your customers are looking for delicious gourmet chocolate creations, and they've got the products to keep them satisfied. Check out their Classic Chocolate Assortment for an exquisite collection of treats, like smooth creams, fresh-roasted nut clusters, and delectable chews covered with milk and dark chocolate.
Candy and chocolate are great, but have you ever tried gourmet popcorn? Even better, have you ever had milk chocolate on your popcorn? Popsations is here to make that snacking dream a reality, with their wide selection of gourmet popcorn. Try their Milk Chocolate Caramel Popcorn for a sweet treat, guaranteed to bring customers back for more again and again!