If there's one thing customers love, it's snack food. The problem lies in finding and carrying the particular snack food your customer base will enjoy. As more and more people focus on their health, traditional snacks are starting to fall by the wayside. Customers are demanding more choice, and that choice has to include more healthy alternatives for them to be comfortable opening their wallets. Now you can offer your customers the healthy snacks they crave from a family-owned business you can trust. Introducing Almost Nuts!
Providing Delicious Snacks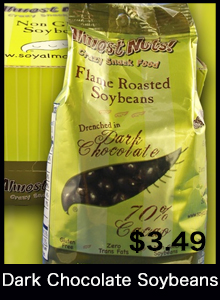 This company offers a handful of delicious snack food options that your customers will love:
Oven-Roasted – The perfect choice for a customer looking for an unsweetened snack. They're soybeans roasted to perfection and are a perfect addition to soups, salads or just by the handful.
Milk Chocolate – An excellent option for the healthy-minded customer looking for a little something sweet. They contain roasted soybeans coated in rich milk chocolate.
Dark Chocolate – Quite the duo, the 70% cocoa dark chocolate and roasted soybeans combine to create a healthy explosion of flavor that every customer can enjoy.
Yogurt – That's right, you can also get these roasted soybeans coated in a creamy, white yogurt that is sure to make your customers smile.
Putting Healthy Back in the Snack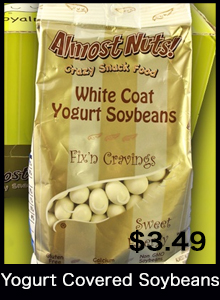 The Kornowske family is dedicated to providing non-GMO soybean products to their customers. This is significant because the USDA reports that 90% of all soybeans produced in this country are GMO's. That means your customers never have to worry about the origins of the ingredients in their snack food. And soybeans are already rich in calcium and heart healthy. This company is ready to put the healthy back in the snack.
So if your customers are looking for a delicious and healthy alternative to regular snack foods, you want Almost Nuts!