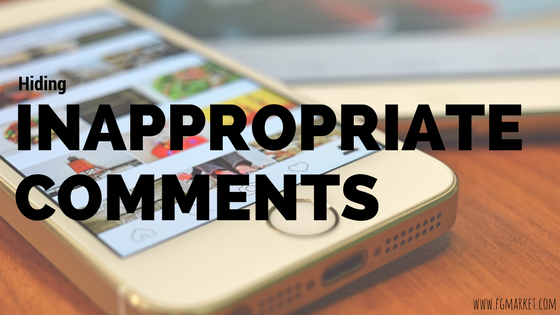 Have you ever received a comment on an Instagram post that seemed either spammy or wildly inappropriate? If you have a public Instagram account (which, as a business, you definitely should have), then you know how much of a problem inappropriate comments can be on Instagram.
Luckily, there's a solution to this oftentimes awkward problem.
Recently, Instagram introduced a new feature that aims to curb or completely eliminate the growing trend of uninvited inappropriate comments and offensive phrases on posts.
Inappropriate comments can really tarnish the professional look of your business. Sometimes, these comments can have links to other accounts that promote nudity or pornography, which is definitely a bad look for your business if you're trying to appear clean and friendly.
It only takes a few steps to setup this filter, and we'll walk you through how to do it in today's blog post.
Options
To access the comment filter, you'll first need to go to the Options section of your Instagram app. If you're using an iOS device (iPhone, iPad) the options are indicated by a gear icon. For Android users, the options are three vertical dots stacked on top of one another.
Once you're in your app options, scroll down until you see the Settings section, and then click on Comments.
This is where you'll find a few options for filtering out inappropriate comments.
Default Keywords
Instagram automatically filters out certain words that are deemed inappropriate by a majority of the population. These include curse words, references to private body parts, and more. Unfortunately, Instagram does not list which words the default filtering includes, but it will block most things deemed offensive by a majority of the population.
All you need to do to block the default keywords is tap the button next to Hide Inappropriate Comments, and then click Done.
Custom Keywords
Need to set up custom keywords to block in your comments? Instagram allows you to do that as well.
If you don't think that the default keywords will do the job, you can use the next area of the Comments settings to enter certain words or phrases that you also want to block from showing in your post comments.
Just type out the words you want to be blocked by Instagram, using a comma to separate each word, and then click the Done button.
Deleting Comments
Sometimes, inappropriate just fall through the cracks of the filter and end up on your posts anyway. If this happens, don't worry; you can still get rid of the comments by manually deleting them.
Now, keep in mind, I am not talking about negative comments on your posts. You should never delete a customer's critical comment, even if it does speak poorly about you. However, if they use inappropriate language in their comment, that does give you ground to delete the comment.
If you would like to delete a comment on a post, it's very simple. Just go to the post in question, and click on the bubble shaped Comments button, like you're going to leave a comment on a post (located in-between the heart and paper airplane icons underneath the post).
Hold down on the screen where the inappropriate comment is located, and then click the trash can icon at the top of the screen.
That's it! The comment has been deleted, no questions asked.
Reporting Comments
Reporting a comment is as simple as deleting one. You'll go to the comment on your post and long press on it, just like you did when deleting a comment.
But, instead of pressing the trash can icon, you'll press the octagon with the ! in the center of it.
Instagram will ask you why you are wanting to report the comment, and you can select either Spam or Scam, or Abusive Content.
Reporting is great for not only getting the comment off of your post but also letting Instagram know that the user who posted the comment is improperly using Instagram and going against its Terms of Use.
That's it, really. Instagram makes it very easy for users to protect against unwanted and unnecessary comments. Protect your brand and your customers from dangerous spam accounts, and inappropriate comments by using the settings available to you in the Instagram app.