Blue Ridge Specialty Foods have definitely earned the word gourmet in describing their products. Blue Ridge Specialty Foods are handcrafted in the Blue Ridge Mountains of North Carolina. They are hand-stirred in small batches using the freshest fruits, vegetables, pure cane sugar and the finest ingredients, so you know you will get the very best in the 120 food products they offer. Additionally, their products are made-to-order in an effort to keep them as fresh as possible in one of their three commercially inspected kitchens.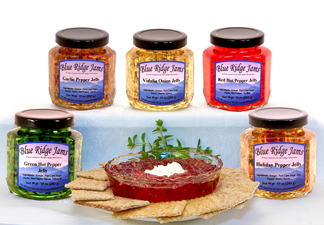 Glance over their long list of foods and you will find everything your heart could crave, from peach salsa, to buttermilk biscuit mixes, to fire pepper chow chow. They offer jelly in several varieties: muscadine grape, blueberry, apple, blackberry, and Bordeaux wine to name a few. They also have several preserves, as well, like cherry, plum, and peach.
To be sure, they would be perfect for your morning scone or bite of toast, but consider using them on soft cheeses, to stir into your oatmeal, or even to use as a glaze on meats. Add them to pancakes with a dollop of whipped cream and your breakfast just went from bland to downright special. They have you covered for lunch, too. Choose from chicken noodle, chicken tortilla, country vegetable, corn chowder, or loaded baked potato soup when you're ready to fill your belly with these mixes that only take minutes to make.
If you would like a mix of products, you might consider their gift baskets. Let us suggest their Southern Breakfast Basket, which includes a biscuit mix, grits, Phillips country ham biscuit cuts, gourmet coffee and preserves–it's breakfast perfection tied up in a bow.
They also offer plenty of sides: pickles, okra, beets, relish and chow chow. Never heard of chow chow? Think fancy relish, but with a hot, spicy twist. It's made the old fashioned way using cabbage, sweet red pepper, onions and spices. This side dish is a favorite since they grow huge heads of cabbage in the South, giving it a chunky texture. Blue Ridge Specialty Foods offers mild, hot, five pepper, and butt kicking, which has to be good with a review like this one: "If you want a Butt Kicking Chow Chow…this is the one. I will continue to order the Butt Kicking Chow Chow. I must hate myself."
For a unique gift, check out their personalized jams and jellies. You will get a jar of their flavor punched jam in an 8 ounce jar that is personalized with your event, and even your wedding. You can easily put your names and wedding date for a delicious favor they will remember.
Blue Ridge Jams has been distributing specialty food products since 1961 to the Blue Mountain region. They are family and veteran owned. All of their products are made in house. If you are as hungry as we are after reading about their delicious offerings, then you need to try Blue Ridge Specialty Foods!