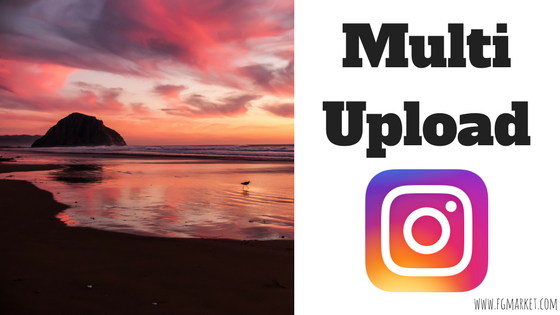 For the past few years, multimedia social sharing company Instagram has been working hard to introduce tons of new features to bring in customers to their excellent platform. From Instagram Stories, a variation of the Snapchat Story feature, to Boomerang, and minute-long video clips, Instagram has been constantly evolving in an effort to entice new customers and keep their current customers from jumping to a different social media app.
Now, Instagram has introduced a much-requested feature that is once again changing the game for what users can do with the app. With the release of its latest update, Instagram has added the ability for users to upload a combination of up to 10 photos or videos to one post, cutting out the task of uploading individual pictures and videos, which can bog up your followers' feeds.
With this new feature, Instagram is essentially adding a slideshow album feature. It appears as a single photo or video in a user's feed, but when you swipe to the left, more photos and videos are revealed. This is a great feature for business owners who want to show off their products and beautiful photography to their followers, without annoying them with too much "spam posting."
If you don't yet know how to upload multiple photos to your company's Instagram page, we can help you out!
Update Your App
Before you can begin adding multiple photos to a single post, you'll first need to make sure that your Instagram app is currently updated with the latest version of the app. The version that added the Multi-Upload function was version 10.9 on both iOS and Android, so any version after 10.9 will have the new feature.
Upload
After you've updated your app, it's time to start uploading your pictures and video. You can upload multiple items to Instagram in the same way you used to upload your pictures and videos. All you have to do is click the "+" icon in the bottom center of the app screen. This will bring up a page where you would normally select one photo from your phone's photo gallery to upload, but this time, you have the option to select more than one item.
Select Multiple Photos/Videos
To select multiple photos, you need to click the button on the right side of the screen that looks like two squares stacked on top of each other. Once you click this button, you'll notice a circle appear in the right corner of each of the photos in your gallery. When you click on these photos, a number appears in the circle indicating how many photos have been selected so far. Select up to 10 photos and videos, and then click Next to continue to the app's Editing tools.
Make Edits
Instagram gives you the option of editing all of your uploaded photos and videos at once with the normal filters located at the bottom of the editing window. But you can also edit each photo individually by clicking on the specific photo or video you want to edit. After you've made all the edits to your pictures, it's time to give your post a caption, add your hashtags, add a location, etc. Note: you can only add a caption for the album you're uploading. Unfortunately, you aren't able to add individual captions for each photo or video you're uploading, but hopefully, Instagram will add this feature in the future.
Post!
Now you're ready to post your awesome multimedia slideshow! When followers see your post in their feed, they'll know it's a multi-photo post if they see dots underneath the post. Each dot represents how many photos are in each post, and they can swipe left to see each photo/video.
There are lots of great ways to use this new Instagram feature to show off your awesome products. Check back with the FGmarket in the future to see how you can be utilizing this feature for your business!
Check out Instagram's official blog for more info on this great new feature.