When it comes to finding unique gift options for your shop, it can be daunting to find the right products to offer. Well, how about selling tasty gourmet treats that are made right here in the USA? With their award-winning salt-cured country ham, hickory smoked bacon, and smoked sausage, Broadbents B&B Foods offer gourmet meat products that take home the blue ribbon!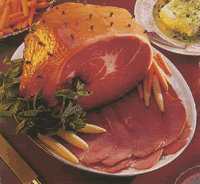 Since 1965, this company has been shipping its award-winning meats across the country. From their smokehouse facility and walk-in market in Kuttawa, Kentucky to your store shelves, you can stock these premium cuts of savory Kentucky country ham, hickory smoked bacon, and smoked sausage in stock any time of year and be sure they will not lose their mouthwatering flavor.
Satisfyingly Smoked to Perfection
All of their country hams are hickory smoked, dry-cured and aged for 6 to 9 months before they're shipped to your store shelves or placed on your customer's table dinner table. These hams retain that authentic flavor, even when shipped far away from the Bluegrass State.
But they're not just about their hams. By using Grandma Broadbent's hickory smoked sausage and bacon recipes for more than 100 years now, this company has garnered attention and awards for their collection of bacon and sausage too.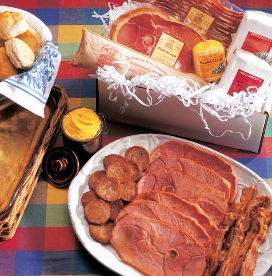 Appetizing Gifts for Any Occasion
Broadbents B&B Foods combines classic Southern traditions with savory meats to craft the perfect gift basket for any occasion. With a range of price points and variety, these USDA-inspected cured meats can be a great option for your customers.
Need a creative gift for an upcoming wedding or to treat your groomsmen? Want to give Mother a break during Mother's Day lunch? With the assortment of gift baskets filled to the brim with salty and appetizing meats and Southern comfort foods, this company has something for everyone and for any occasion imaginable.
These Southern gourmet food staples create a gift that the whole family can enjoy. Your customers' taste buds will thank you for offering these delicious gift baskets from Broadbents B&B Foods.