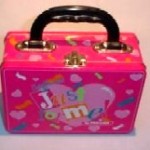 Customize Your Lunchbox at Tin King USA
Let's face it. Custom packaging raises the bar on brand awareness. It takes your products from average to extraordinary. This special dose of recognition now comes in tiny tin containers thanks to Tin King USA.
What's even better about Tin King USA is that they stand by their commitment of "If you think it, we can tin it." Liquor packaging, consumer packaging products, educational packaging and so much more custom packaging can be made for your products at Tin King USA. Want to increase brand awareness by affixing your logo on a best-selling product? Only a few clicks stand between you and better brand recognition for your store.
Collectible tins are cherished items for many people. Why not add your customized tin containers to their collection? Tin King USA makes it easy to Continue reading "Why These Awesome Products Are Worth Their Weight In Tin" »