For everything Irish, Timeless Irish Treasures is THE starting point. They offer more than 1,100 items, from pillboxes to scarves, shawls, capes, pens, headwear (in their very fashionable cable-knit headbands), and a great variety of jewelry. The items are full of Irish symbols in this brick and mortar store in North Carolina that traces its roots back to 1923.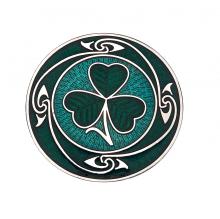 Enamel Celtic Shamrock Coils Brooch
It prides itself on being the oldest Irish Import Shop in the United States, where it began in New York as a family run business, specializing in Irish sheet music, 78 rpm records, Irish cigarettes, and tobacco. More than 90 years later, it is still a family run business where it is in the third generation of folks selling Irish wares.
Irish Treasures takes care of you by offering the finest quality products. Every item is shipped in presentation packaging in a gift box or a monogrammed velvet pouch and is shipped in just 1-3 days and only 5-10 for out of stock items. Their products are sourced around the world and warehoused in North Carolina, saving money on import duties and shipping.
But it has to be the sheer product range that keeps this company in demand. Truly Irish, they offer items featuring Celtic Crosses, Irish Harps, Tara Brooches, triskeles, Welsh Dragons, trinity knots, and iconic shamrocks.
They also specialize in exclusively-designed fashion jewelry created by Irish-American Catherine Lynch, which celebrates ancient Celtic artwork found in the Book of Kells. Timeless Irish Treasures is also the creator of the Irish Blessing jewelry, which features the inscription, "May the road rise up to meet you. May the wind always be at your back. May the sun shine warm upon your face, and rains fall soft upon your fields."
Their capes, scarves, and shawls are in vibrant colors, many featuring tartans, and plaids from the different Irish clans. Their compact mirrors are beautifully intricate and ornamental, featuring a plethora of designs. They offer row upon row of beautifully designed pieces of jewelry that includes bracelets, earrings, necklaces, rings, pendants, and watches. Materials are base metals that are lead and nickel-free, and their pieces include semi-precious stones, enamel, crystals, leather, cloth, abalone, and beads.
They offer a gorgeous oval spiral stretch bracelet set with Abalone and several with the Celtic knot. A necklace featuring the tree of life with green beads is especially pretty. They even offer pens and letter openers that look and feel every bit Irish. A favorite search has to be the one simply labeled "St. Patrick's Day" that has items like a black and green shamrock patch square scarf; shamrock earrings; four leaf clover gold or silver stud earrings; and a green, white and orange colors of the Irish flag infinity scarf.
To make your purchase more meaningful, look up its roots and significance in their wonderful section on their site on Irish imagery. Look there for that and many other great products that you are sure to love (even if you're not Irish!) at Timeless Irish Treasures.