Whether looking to update the conference room, the office or add cool modern furniture to your store, Zuo Modern is the place to go. Their designs far exceed expectations where contemporary furniture is concerned. Plus, it looks great doing it.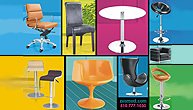 Contemporary Furniture from Zuo Modern

High Style For The Office
If you're trying to add style to your office or the company conference room, consider some of Zuo Modern's contemporary office furniture. With designs specifically created with the "boss" and "ceo" in mind, you know comfort and a powerful appeal will jump out at whomever sees the pieces.
Zuo Modern doesn't just stop at the top. They also have conference chairs, tables, rugs, file cabinets, magazine racks and more. If there is a piece of contemporary office furniture that you need, find it at Zuo Modern.
Chic Style For The Home
Not to limit themselves, Zuo Modern also produces high quality modern furniture for the home. This appeals to your customers who want to make a bold statement when guests visit. Picture the swankiest New York loft apartment and all of the contemporary decorations inside. Know where they got the furniture? Many of them found what they liked at Zuo Modern. The same styles and pieces found in apartments of trendy contemporaries across the country are found at Zuo Modern. Why stop with just them? Your trendiest customers will love this great modern furniture as well.
Furniture for the bar. Office furniture. Bedroom sets for the most chic budoirs. Your customers want it so why not be where they look for it? You can be this and more with the wholesale furniture from Zuo Modern.