It's hard to argue against the importance of carrying 'green' options as customer demand continues to gain traction. While perusing through FGmarket's Cards and Stationary I ran across a company that takes their place in the community very seriously. They carry everything from wood-based school supplies to wooden picture frames, and all without harming a single tree!
If you're looking for a new line of earth-friendly products, check out Woodluck LLC!
Eco-Friendly Products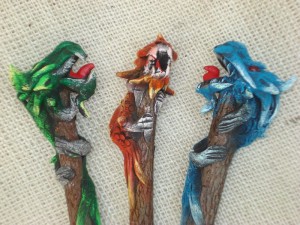 Two words is all it should take to get you plenty excited about this company. Twig. Pencils. What are twig pencils? They might just be the coolest thing you'll read about today, and I bet your customers will think so too. They are pencils made out of actual twigs. Not twigs that have been pulped and repurposed but actual, pick-them-up-off-the-ground or trim-them-from-a-living-tree, twigs. And that's just the beginning of the creative and innovative products this company has created.
What else will you find? How about notebooks made with completely recycled paper, or key chain good luck gnomes? You'll discover a world of beautifully carved decorative items, natural flower bookmarks, a plethora of engraved items and so much more!
Using Wood the Friendliest Way Possible
So how do they do it? How do they carry so many wood or wood-derivative items and still claim that no trees are harmed? Because all of the wood they use is either picked up off the ground or trimmed from living trees. This ensures that the trees can continue living and growing as they always have. And the method of collection has done nothing to dull the beauty and artistry found in many of these pieces.
If you want to carry items your customers will love and that also protect the environment, you want to use Woodluck LLC!