Welcome to Part 4 of How To Get Word Of Mouth Exposure, a 5 part series that details how you can create a buzz-worthy business.

Last week, we talked about how to reach out to your community to build trust and get your business noticed.
Today, we'll discuss how utilizing social media is your online word of mouth jackpot!
Social Media = Electronic Word Of Mouth
If you haven't noticed, social media means far more than baby pictures and cat videos. It is time to dust off your username and password. Not only should your company have an online presence on social media, it should stay current and active.
Sites like Facebook and Twitter exist to keep people connected, and when people are connected, they talk about things – surprise! Sure, some of those things are baby pictures and cat videos, but when logging in they also talk about where they are going, what they are buying and why.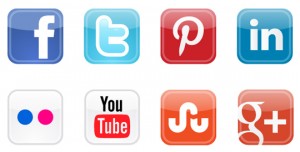 For this reason, social media can be even more potent that traditional word of mouth because one click on a photo can lead a potential customer right to you. That doesn't happen in person so take advantage!
Make Your Online Presence Known
You can decide how simple or complex your website needs to be. And you should select which social media platforms to utilize. Because honestly, you shouldn't bite off more than you can chew. If you can't spare the time to maintain both a Youtube channel and a Twitter account then don't.
Just make sure that you get involved somewhere and make it work for your shop.
Make sure you have your business's info page complete. Keep the phone and email listing up-to-date. Be sure to have a relevant profile picture like your company logo, a nice headshot or a photo of your products or storefront. No kids, no cats. Save that for your personal page.
Then work to get likes, followers and subscribers. Seek out friends, family, and regulars to get things started. Be sure to ask customers in the store to "like" your shop to get all updates on sales and promotions. Don't forget to post signs in your store letting customers know where they can find you online.
Stay Current. Stay Hot.
Nothing looks worse to a customer visiting your website or profile page than seeing that nothing has changed for months! A lot happens at your business everyday so show it. Add photographs of your store and your products so new visitors can get a sense of what shopping with you is like. When you get a cool new product in, post about it & share a photo.
Learn about #hashtags and use them! Ask fun questions in your status updates and respond to the answers. There are so many ways to stay engaged. Figure out what works for you and do it often.
All of this activity does take time. But if you spend just a little time each day, every other day, even once a week that is better than nothing for months at a time. There is much that can be accomplished by checking in for a few minutes to let people know what you are up to. This makes your business more visible online and better suited to connect quickly to customers. Then those happy engaged customers will tell their friends which means more traffic for you!
Next week, we'll discuss how customer reviews can build trust for your company and how to get them.
Read How To Get Word Of Mouth Exposure – Part 1: What's The Buzz?
Read How To Get Word Of Mouth Exposure – Part 2: Find Your Niche!
Read How To Get Word Of Mouth Exposure – Part 3: Reach Out To The Community