There's nothing quite as refreshing on a warm day as a freshly brewed batch of ice cold tea. With Pappy's Sassafras Tea, your customers will get just what they're looking for to quench their thirst, and it's good for them, too!
Novelty to Necessity
Pappy's started out as H & K Products (which stands for Hermie Kerner) in rural Ohio. Kerner started brewing his sassafras tea in 1962 as a souvenir of sorts. The little brown jug that the tea was bottled in could be used as a table lamp after drinking the tea. The success of that batch of tea continued to grow in the following years, and pretty soon Kerner had a widely successful business on his hands! Now his company's teas are distributed all across the world, even in places like South Korea, and are featured in major grocery chains such as Kroger.
A Healthy Treat
Pappy's teas not only taste great, they're also great for your customers! All of the teas have zero carbs, zero sugar, zero caffeine, and are gluten free! There's also less than 1 calorie in each 12 oz. bottle of tea, and very low sodium (less than 15 mg per fl. oz.) It's also brewed with all natural ingredients. For  example, Pappy's Sassafras Tea contains: filtered water, sassafras extract, caramel coloring, and potassium sorbate. That's it!
You can also use Pappy's line of tea concentrates to spice up your other favorite drinks, including your favorite liquor or smoothie. They go perfect with ice and fruit to create delicious, fruity specialty drinks!
A Variety of Products
Sassafras Tea is Pappy's original and most popular product, but the company also excels in making healthy green, peach, and raspberry teas. Their antioxidant-rich green tea is packed with 105 milligrams of antioxidants per serving, while still maintaining less than 1 calorie per serving! The amount of antioxidants in this green tea is as much as five times the amount found in many other leading brands of green tea.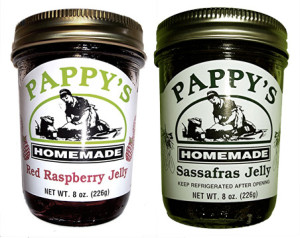 But if tea isn't your thing, don't fret! The company also offers a variety of jellies, including a sassafras jelly and raspberry jelly. These tasty treats are made in the traditional way, with the memories of the "Good Ole Days" in mind.
So if you're looking for a tasty, healthy drink that's sure to get customers shopping at your store, stock your fridges with Pappy's homemade teas!