Acomo Jewelry, Inc. is known around the world for their amazing and genuine sterling silver jewelry. Not only are they a leading importer of beautiful .925 sterling silver jewelry, they are also at the top of the competition for wholesale sterling silver jewelry.
Acomo has been a big player in the wholesale silver jewelry business since 1997. With almost two decades worth of professional experience, why wouldn't you buy from them?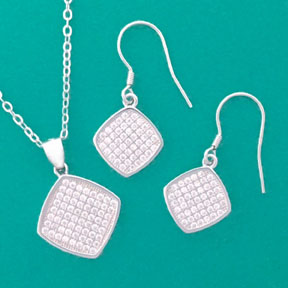 After moving to Denver, Colorado from Germany, Acomo Jewelry owner Peter Rahe opened a wholesale showroom in the Denver Merchandise Mart. Offering unique and very fashionable sterling silver jewelry, Peter attracted customers from all over Denver and the surrounding areas to his merchandise.
They are known for supplying some of the most fashionable and affordable handcrafted sterling silver jewelry around, and strive to offer each customer "jewelry for today's lifestyle." They want their jewelry to make customers feel special.
They also boast of employing the finest silversmiths from around the world, from countries such as Indonesia, Mexico, China, India and right here in the USA. These are beautiful pieces made by human hands, not machines.
Acomo has hundreds of styles of jewelry to choose from, and each piece is expertly crafted to accentuate any style.
Juliet Collection
Are your customers looking for jewelry that's not only dazzling but unique as well? The Juliet Collection is what they're looking for. This collection features beautiful sterling silver creations, from earrings and necklaces to bracelets, but what sets this collection apart from the rest is the inclusion of semi-precious stones in the design. These stones are subtle, yet eye-catching. They draw the gaze to anyone who wears them, and your customer will be the talk of the town while wearing this collection, no matter the occasion!
Hammered Sterling Silver
For a more rustic look, the Hammered Collection is perfect. These pieces are made of the same top-quality sterling silver as every piece made by Acomo, but instead of a slick, smooth look to them, they feature a unique hammered design. Each piece looks like it was forged in an old-style metal smith. Various colors of stones are also set in the center, or hanging, from many of these pieces. These stones are great accent points that really bring out the attractiveness of each piece.
Nautical Jewelry
Feeling a bit nautical? Acomo Jewelry has the aquatic enthusiasts covered as well, thanks to their Sterling Silver Shell Jewelry collection. This collection of sea-themed jewelry features shells of all different shapes, sizes, and patterns.
But it's not just shells included in this collection. Acomo also has a wonderful Coral Jewelry collection featuring beautiful red coral-inspired pieces. It portrays the beauty and majesty of the mighty oceans of the world while at the same time blending perfectly into any outfit.
Sterling Silver
Last, but certainly not least, is the Sterling Silver Jewelry collection. This is what Acomo is famous for, and it's easy to understand why. The silver earrings, necklaces, bracelets, and more are easily some of the most stunning sterling silver jewelry pieces that we've ever seen. They are available in a variety of wonderful designs, from nature to elegant spiraling designs, so your customers will have no problem finding a piece that matches their unique style. Their sterling silver stud earrings are their most popular product, and they offer more than 130 styles to choose from.
They also have a new product for customers to enjoy, their Cubic Zirconia Jewelry with Rhodium Plating. The Rhodium plating gives these pieces a look that is very similar to white gold and also prevents the jewelry from tarnishing under repeated wear. It's a beautiful addition to their already stunning sterling silver jewelry!
Great sterling silver jewelry can sometimes be hard to come by, but you'll have no problems with that when you buy from Acomo Jewelry! Give your customers something that they'll love and cherish forever.