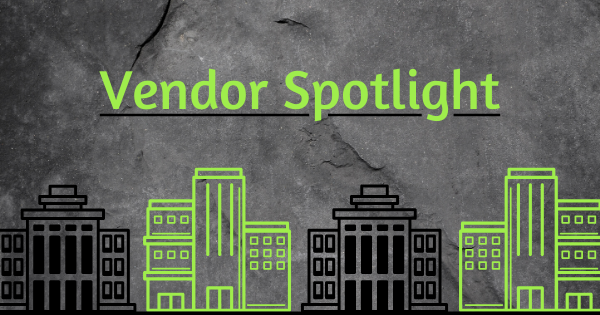 Deliver freshly roasted coffee sourced from the United States to your customers with West Coffee's quality coffee.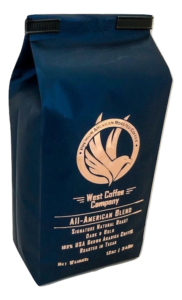 West Coffee Company is a family-owned business born deep in the heart of Texas. With a mission to connect fellow Americans across the country with American harvested coffee, they created their company to do precisely that. Maintaining high-quality coffee beans and working conditions, West Coffee Company prides itself on its product's quality and consistency. Bringing you 100% USA-grown coffee beans sourced from Hawaii and Puerto Rico, West Coffee Company offers bold flavor profiles that your customers will love day in and day out. 
Experience rich, full-bodied coffee with West Coffee Company. Connecting American farms to businesses where they can serve their customers with quality coffee is at the soul of this American-made brand — providing a variety of coffee blends that meets the desired tastes of each beloved coffee drinker. West Coffee's All-American blend has been carefully roasted to provide notes of chocolate, nut, all-spice, and graham. This medium-dark Natural Roast coffee provides robust characteristics originating from Hawaii and Puerto Rico and will become a staple amongst your customers.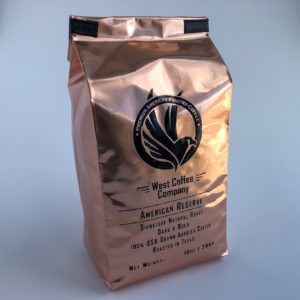 Fill the air with the sweet smells of cocoa with West Coffee Company's North American Blend, a versatile combination of nut, cocoa, and allspice with a robust feature of Mexican coffee beans that express notes of toffee, graham, and cocoa. Harvested in North America and roasted in Texas, this blend is made for America's patriotic coffee drinkers. Love coffee but need a break from the caffeine? North American Decaf is for you! This smooth coffee can be enjoyed at any time of the day and has all the flavor benefits of a normal cup of joe.
West Coffee Company is 100% committed to its customer's satisfaction and provides quality coffee that can be tasted in every mug. Forget the days of coffee that is just okay, and fill up your customer's cup with West Coffee Company today.
---