Live in a tight space? Have a room that needs to serve multiple purposes? Finding a space for a bed can be tricky when you also need to fit a desk, cabinet, or workout equipment. A common solution is a Murphy bed; however, they are extremely difficult to install and can cost thousands of dollars. Furniture that includes hideaway beds often offer uncomfortable options. Bars that dig into your back, thin mattresses, and uneven frames can eliminate any chance of a good night's sleep for you or your guests.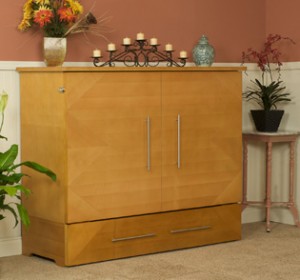 Arason Enterprises offers the perfect solution for fitting a bed into a tight space without compromising your wallet or sleep. Their ZzZ Chest Cabinet Bed is the perfect way to hide a bed in style. Offered in a variety of styles and finishes, the ZzZ Chest Cabinet Bed looks like a high-end piece of bedroom furniture, but folds out into a bed. No matter if it is a twin, full, or queen-sized bed, the ZzZ Chest Cabinet Bed will fit seamlessly into your space and provide hours upon hours of great sleep.
Arason Enterprises doesn't skimp when it comes to mattresses. An 8-inch bi-fold innerspring mattress unfolds from the ZzZ Chest Cabinet Bed into a cushiony dream and fits all regular sheets. Once in bed, you will have no idea that this bed once folded.
So why compromise a good night's sleep for you or your guests? A small space no longer means giving up on quality bedroom furniture. With Arason Enterprises' ZzZ Chest Cabinet Bed, you can have your chic space and restful sleep too!