Featuring products in your store that serve many purposes are always great to come across. Whether it's a product that can be used in the kitchen, home, outdoors or everywhere; it's always nice to have that one product in your store that has multiple uses. What is one product line that has so many uses in the home and for your customers? Candles are always great to have in your store since they serve so many purposes. So, FGmarket has our top picks that are sure to make a big hit in your store.
Soy Candles – Soy candles are great for the eco-friendly consumers. These candles are better for the home and environment since they burn cleaner, burns longer, renewable and biodegradable. This is great for your "green" customer and any one who is wanting to work towards a better environment. Pair these candles with other eco-friendly items in your store and you have a great gift basket idea for your "green" customer.
Munio Candela, The Soi Company, Solay Wellness Inc.
Holiday Candles – When looking for a wonderful gift that is always pleasing, your customers can go with a holiday candle. These are always great since they are themed. For Christmas, you can feature evergreen or cinnamon scented candles with beautiful holiday decor. Also, find holiday candles that are great for spring and summer. There are scents for every holiday and occasion!

Crossroads Original Designs, Candles 4 Less, Doug Thorson Sales
Decorative Candles – Candles not only serve as something that fills up a house with succulent fragrance. It also can serve as a home accent piece too. Candles have become more and more evolved within how they're being decorative.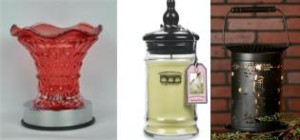 Jane Bernard Aromatics, Bridgewater Candle Co., Your Heart's Delight By Audrey's
Scented Candles –Of course, you can't talk about candles without talking about all the wonderful fragrances they come in. There are so many scents out there that your customers can pick from, which makes it wonderful so they can find the scent that matches their personality. Choose from fresh spring scents, fruity fragrance or a warm and homey scent. There are so many different fragrances, just make sure to offer variety so your customers can choose their favorites.

The Candleberry Candle Co., Barcelona Bath & Body, Klassic Kandle
Candles are always great to carry in your store for any season! They make wonderful gifts and customers just love to buy them for themselves to freshen up their homes.