Stock your shelves with gluten free products made with love from XO Baking Co.!
Owner Lindsey Braham has always had a passion for baking. After being diagnosed with Celiac disease, an autoimmune disease caused by gluten intolerance, she decided to turn her attention to creating delicious gluten free baked goods that don't skip out on the taste of their traditional counterparts. Now, XO Baking Co. creates over 20 boxed mixes for a variety of baked goods in every category!
After years of working to master the perfect blend of gluten free flours to create an authentic taste and texture, XO Baking Co. guarantees people with or without a gluten intolerance will enjoy its products! You'll find everything from classic brownie and cookie mixes, to pizza dough, and even their special all purpose flour blend and frosting mixes on their website.
T
he boxed mixes are perfect for gift shops, convenience stores, restaurants, and any shop looking for a quality product to add to its shelves! Customers will love the easy to make mixes for things like banana bread, corn bread, and pancakes. Their newest items include a coffee cake mix and a pizza crust that doubles as a cinnamon roll mix! You can even use the mixes as the base for a more unique treat by adding a few extra ingredients. XO Baking Co. has signature recipes available on its website to turn these already delicious products into delectable gourmet treats.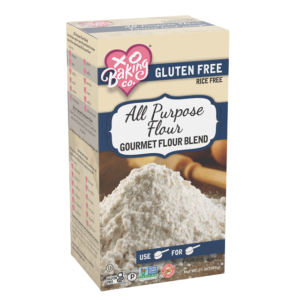 Give your shop an edge by catering to a clientele that is often overlooked. Around 18 million Americans suffer from some form of gluten intolerance, but not many businesses cater to that population. By adding XO Baking Co. products to your inventory, it will be easy to gain loyal customers and a new audience for your business!
Give your customers the quality products they deserve with XO Baking Co.!
---