Time to start stocking the shelves for everyone's favorite red & pink holiday. Valentine's Day has never looked better with some of these fantastic new products. Stock up now for all those eager shoppers searching for that perfect gift for their sweetheart.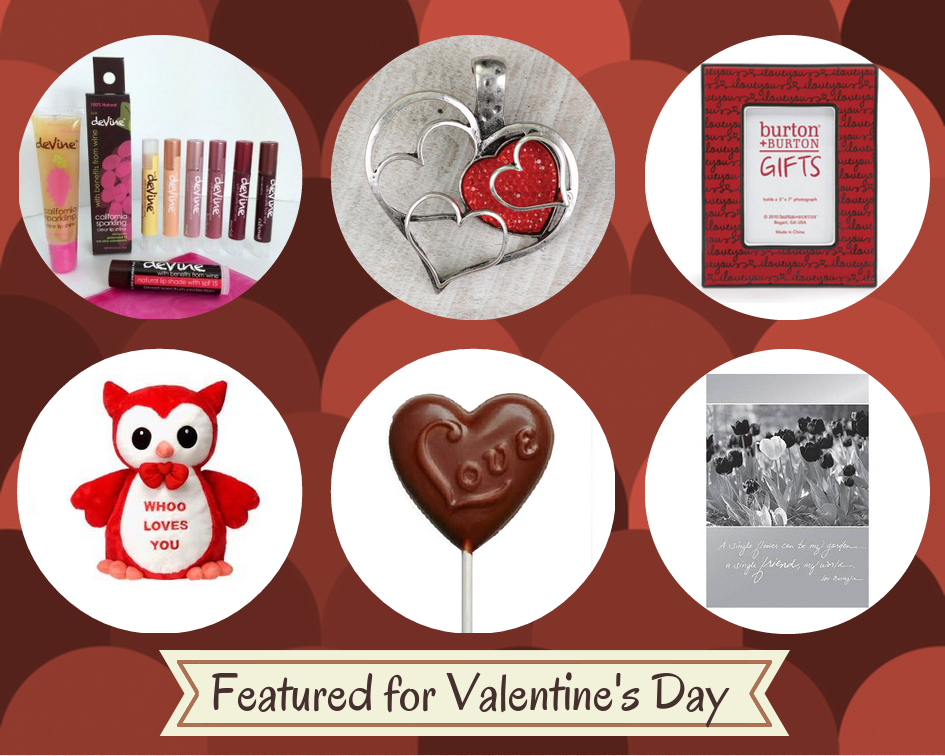 Devine Shimmers  – "Premier Flight" lip care gift set
Devine has taken the beneficial properties of the vineyard wine grape and provided a beauty line that contains NO alcohol, gluten, pesticide or paraben. Their products are also cruelty free and made in the USA. This premier gift set includes all six of wine-a-licious Lip Shimmers, a California Sparkling Lip Shine, and a Sangria SPF15 lip balm.
Seasons Jewelry – "Multi-Heart Starstone Pendant"
This pendant will make hearts beat a little faster and is part of Seasons Jewelry's exclusive Starstone collection featuring silver plating and popular druzy inspired accents. This unique pendant setting has complementary pieces which include bracelets, earrings, necklaces, and stretch rings. A bestseller!
 Burton + Burton – "Frame I Love You"
A romantic red ceramic with a handwritten "I love you" scrolled in lines on this picture frame will set off any photo. Making a perfect gift all on it's own or with a customer's treasured photo added, this picture frame is a favorite. Like all products from this family-owned company, when ordering your get the TOTAL gift experience from Burton + Burton
Fiesta Toys – "WHOO LOVES YOU Red Owl"
Both trendy and adorable, this plush owl is available in 26″ and 12″ sizes and is perfect as a gift for romantics and children. Fiesta Toys is a wholesale company offering a wide selection of stuffed animals and novelty plush delivered all over the world. They have a great selection of stuffed animals just for Valentine's Day.

Sweet Sensations – "Heart Love Pollylops"
Sweet Sensations make "comfort candy with a gourmet flair." These hand-painted creations are truly edible art! Almost too beautiful to eat, they are the perfect favor for special occasions. Choose as a superb addition to gift baskets or an elegant enhancement for your gift wrapping. This delicious indulgence is also nut free, gluten free and Kosher Certified.
Bonair Daydreams – "Valentine's Day Card Collection"
Choose a unique and special line of cards for this Valentine's Day. Bonair Daydreams is a card company offering high quality card collections that features stylish and romantic black and white photography paired with elegant and poignant quotations.  Fall in love with this welcome new take on Valentine's Day cards!