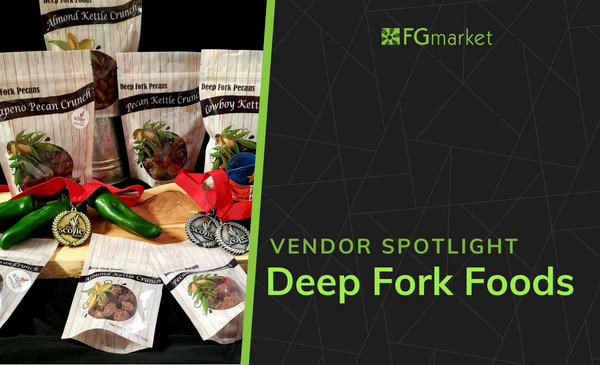 Add your favorite flavors to any meal with the help of Deep Fork Foods! Offering its customers an array of condiment and snack products, this award-winning brand is sure to bring a smile to any food lover's face! Giving your food the extra kick it deserves, Deep Fork Foods is eager to bring its array of flavors to your retail shop!
Explore varieties of flavored nuts, sauces, spice blends, and more! Recognized by the Scovie Awards, Deep Fork Food's Pepper Butter, Jumpin Jacks Sweet Heat, and Honey Mustard pack an award-winning punch that is proven to be irresistible. Perfect for the holiday season, Pepper Butter is a great dip or smear to add to any appetizer on your table. First it's sweet, then comes the heat. This spicy condiment will keep the guests coming back for more all evening long.
In need of snacks for those customers who are on the go? Check out Deep Fork Food's Flavored Nuts! With a variety of nuts available, there is something for everyone! Roasted German-style, Deep Fork Food's Pecan Kettle Crunch is a sugar-coated praline nut with notes of vanilla and cinnamon. Looking for a snack that brings the heat? Deep Fork Food's Scovie Grand Prize-winning Jalapeno Pecan Crunch is the perfect treat for customers who like a snack that tingles your tastebuds. With so many flavors to choose from, your customers will be dying to get their hands on these tasty treats!
Find out more about Deep Fork Foods in the video below or at www.deepforkpecans.com!