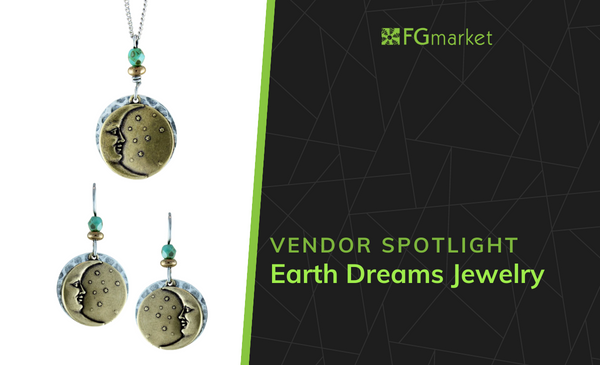 Stay fresh with nature-inspired jewelry from Earth Dreams Jewelry!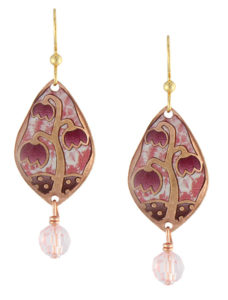 Jackie Magyar established Gardella Jewelry in 1986 as a fine jeweler. Her passion for jewelry making inspired her to create a more affordable product than the sterling silver that Gardella Jewelry offered. In 2008, she brought that vision to fruition with Earth Dreams Jewelry. This sister company maintains its unique style while offering jewelry that is more accessible to all. The family-owned business now uses its passion for jewelry making to create beautiful jewelry with exclusive designs that you won't find anywhere else.
Earth Dreams Jewelry is a collection of original ideas etched into metal with vibrant colors that won't fade and are made to last! Each piece is completely unique, inspired by nature with designs of trees,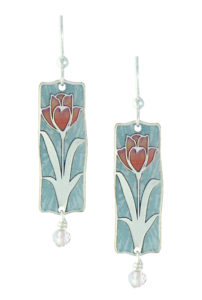 bees, flowers, mandalas, and more. These handcrafted pieces are cut and forged from sheet metal, soldered, and finished in-house. Earth Dreams offers products that you surely won't find anywhere else.
When you choose Earth Dreams Jewelry, you're giving your customers a chance to express themselves with pieces that are just as unique as they are. Even with their vibrant colors, they fit a wide array of styles and are easy to wear. Their designs come in earrings and necklaces and make the perfect addition to any outfit. The popular floral design earrings feature a rosy copper-plated brass etching with bluebells in lovely pink tones. They're made with Czech crystal glass and the ear wires are gold plated with surgical steel so you can feel confident that what you are selling is of the highest quality!
Earth Dreams Jewelry is continuously bringing new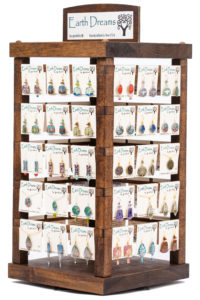 products to its collection. Their new Watercolor Series features watercolor botanical patterns on silver, gold, or rosy copper-plated backgrounds! Also made from Czech glass beads and surgical steel, every piece that comes from Earth Dream Jewelry is crafted with care for superior quality.
The Earth Dreams website features an extensive catalog of their collections and when you choose Earth Dreams Jewelry, you can enter their rack program and receive a handcrafted wooden spinner to display your merchandise. It holds up to 60 pieces of any jewelry they offer and has a dark earthy finish to offset the Earth Dreams jewelry cards. You'll be able to display your jewelry with pride with the Earth Dreams spinner!
Get in touch with Mother Nature and carry Earth Dreams Jewelry in your store today!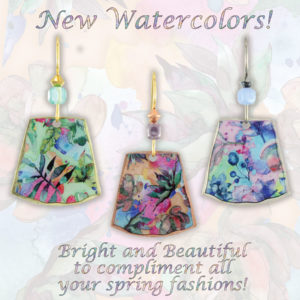 ---