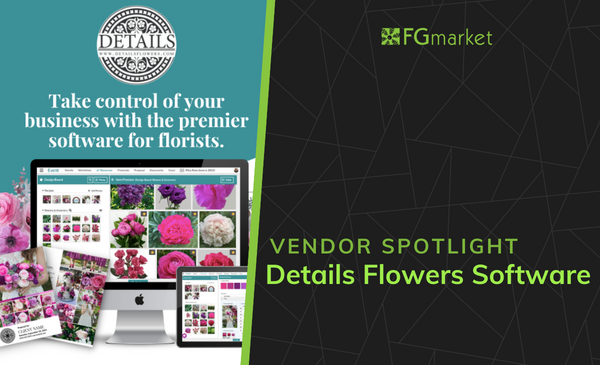 Details Flowers Software takes the stress out of the day-to-day.
How do you remain on top of the latest trends to grow your floral event business in this always-changing market? With the dramatic increase in costs to availability, florists need to be on the top of their game to meet the challenge. We introduced you to our friends at Details Flowers Software a few years ago, but if you are unfamiliar with them, here is an introduction!
Details was created and designed by Corrine Heck, a prominent floral event designer in Central Florida who has worked in the industry for nearly two decades. After 800 events, Corrine understands the day-to-day operations of running a floral business — and from that deep knowledge that Details was handcrafted for florists like her.
"After years of struggling with spreadsheets and frustrations with overbuying, I created Details to help other florists avoid unnecessary hours behind their desks. Details' takes the stress out of the day-to-day processes making it easy for you to save time, book more events, and make more money," says Heck.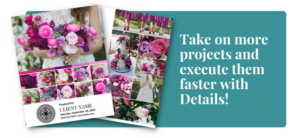 Whether you are a florist just getting started or a busy established company, Details offers fantastic tools to support businesses of all sizes. With this platform, you will impress clients with beautiful proposals, accurate pricing, speedy turnarounds, and accessible payment collection. There is no more second guessing when it comes to sending out quotes to your clients!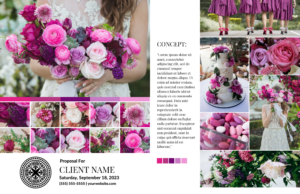 We love that Details provides access to entire product catalogs of world-renowned floral industry suppliers to use in their events. Florists have access to thousands of items from Accent Decor, Jet Fresh Flower Distributors, Smithers-Oasis, Syndicate Sales, Alexandra Farms, and others in just a few clicks.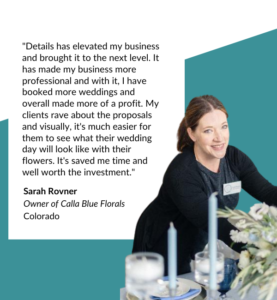 We've been impressed with the team at Details and their interest in helping their customers grow by providing top-notch private and group training sessions on using the software each week. They also sponsor many partner events throughout the US and beyond.
If it is time to invest in yourself and your company's future, Details Flowers Software
will be the best answer for you! Test drive Details for yourself with a 7-Day Free Trial. Have questions? Schedule a 15 Minute Introductory Call to learn how Details can help service your business.
We think the most effective approach to propel yourself to the top of the competition is to invest in technology. Details Flowers Software meets every challenge. Check them out and when you do, let them know that FGmarket sent you!
Find out more about Details Flowers Software at info.detailsflowers.com!