Customers are always on the lookout for something to help increase their leisure time. So if there's a product on your shelves that provides a shortcut to enjoyment, you can be sure they'll be all over it. That's why you need to check out Rita Rims, the party in a box!
Pre-Rimmed Margarita Cups
A good margarita is the ultimate party starter, but unless your customer happens to be somewhere with just the right set-up, getting the proper salt or sugar mixture on the rim of the cup can be a real hassle. Or at least it used to be.
When you carry Rita Rims salted rims party cups, your customers can have the perfect mix of salt and lime or sweet sugar and strawberry no matter where they are. These party cups are already pre-rimmed so there's no need to carry all the supplies, and your customer is sure to get the same tongue-tingling enjoyment every time!
Long-Lasting Flavor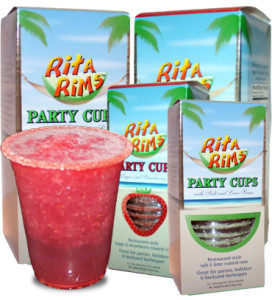 And what's better than a cup with the ideal mix of flavors for your margarita? One that you can use over and over again without losing any of that delicious taste, of course. And that's why each rim is thoroughly and thickly encrusted with the perfect mix of deliciousness. Your customer can be sure that each party cup will be good for 3-4 drinks before it becomes necessary to move on to the next.
And with the ability to buy by individual flavor or a mix case, they can have a great night with the perfect margarita every time. And Rita Rims was even featured on Kathy Lee and Hoda!
If you're looking for a product your customer's will love and will keep them coming back for more, you're looking for Rita Rims!