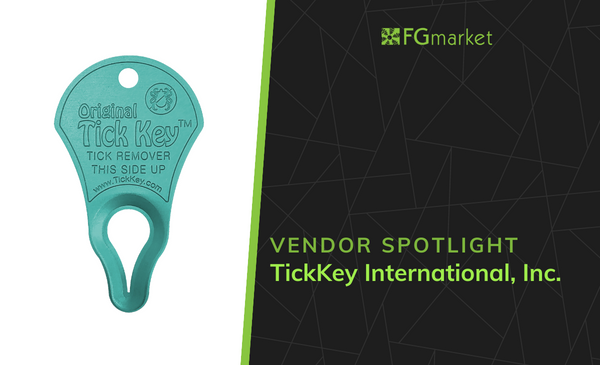 Keep your customers prepared for the outdoors with TickKey International, Inc.
Since 2007, TickKey has been making high-quality, highly effective tick removal devices that every outdoor enthusiast should have on hand for their adventures. From hunters to pet owners, TickKey is a device that benefits a number of people!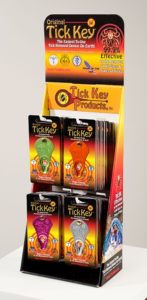 TickKey's tick removal device is made with durable anodized aluminum and is strong enough to remove ticks quickly without pinching or pulling. This helps prevent the spread of tick-borne illnesses by making it easier to remove the entire tick in one sitting. Since launching the tick removal device, TickKey has made a significant impact with several tick-borne public health organizations and has earned several awards for health and safety protection!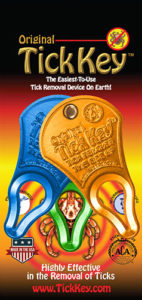 TickKey is sold by a variety of major outdoor retail stores, as well as by doctors, veterinarians, groomers, and more! The small device makes a great addition to a checkout or small item display for any number of stores. The TickKey is available in a number of colors and finishes, and is small enough to store in a first aid kit, pocket, wallet, pet collar, or on a keychain! TickKey is also customizable upon request, so you can personalize it to your business or event.
TickKey is the only tick removal device that uses natural forward leverage to remove an entire tick. This helps prevent pathogens spreading from the tick to its host. TickKey International has been perfecting and testing the design of the tick removal device for over a decade, and their product is responsible for successfully removing thousands of ticks of all sizes!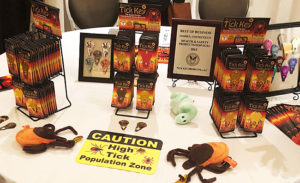 TickKey would also make a perfect, practical addition to a gift basket. In fact, TickKey has been added to a number of big event gift packages, including the Golden Globes, the Emmys, and the Grammys. Add TickKey to any outdoor enthusiast or pet owner gift set options your store carries and it's sure to be a hit! 
If you're looking for a product your customers will use over and over again, TickKey has you covered! 
---
Find out more about TickKey International, Inc. at www.tickkey.com!